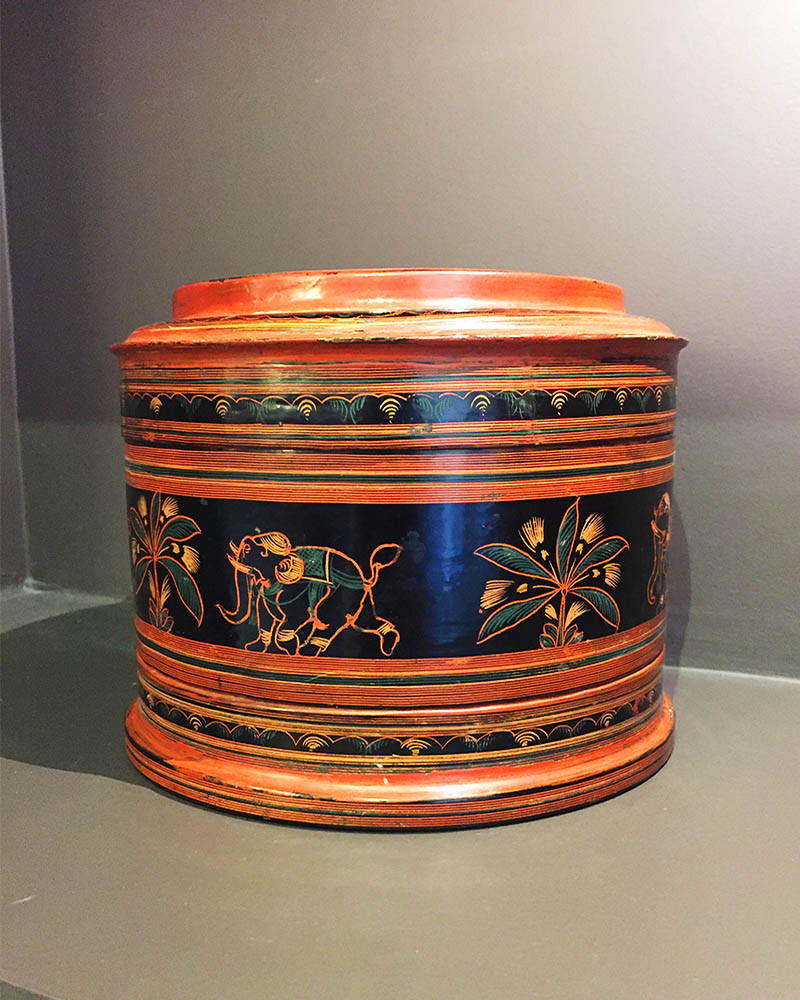  
Burma - betel box with elephants
The lacquered wooden betel box (up to 15 layers of lacquer) is a typical Burmese object. It is finely painted on its multiple faces by a talented artist. On this box we have a pattern of elephants and flowering plants.
SOLD
Dimension : Height 15 cm, ø 18 cm
This antique wood and lacquer Burmese betel nut box from 19th century Burma has intricate designs incised in fine black lines on its hatbox-style lid, high-sided container and four trays. Cylindrical boxes such as this, called "kun-it," were designed for storing and serving ingredients to assemble a quid, or chew, of betel, a mild stimulant that was also used to freshen breath. Nicely decorated kun-it were a key element of the hospitality process surrounding the chewing of betel, and this one made an impressive display when spread out on a low table so guests could select their preferred ingredients. This piece shows evidence of long use but the only damage is on a small area on the top . 
Data sheet
Type of product

Antics

Type of product

Craftmanship Burma - Myanmar

Gift Ideas

Deco

Gift Ideas

For curious people

Gift Ideas

For Travellers
No customer reviews for the moment.