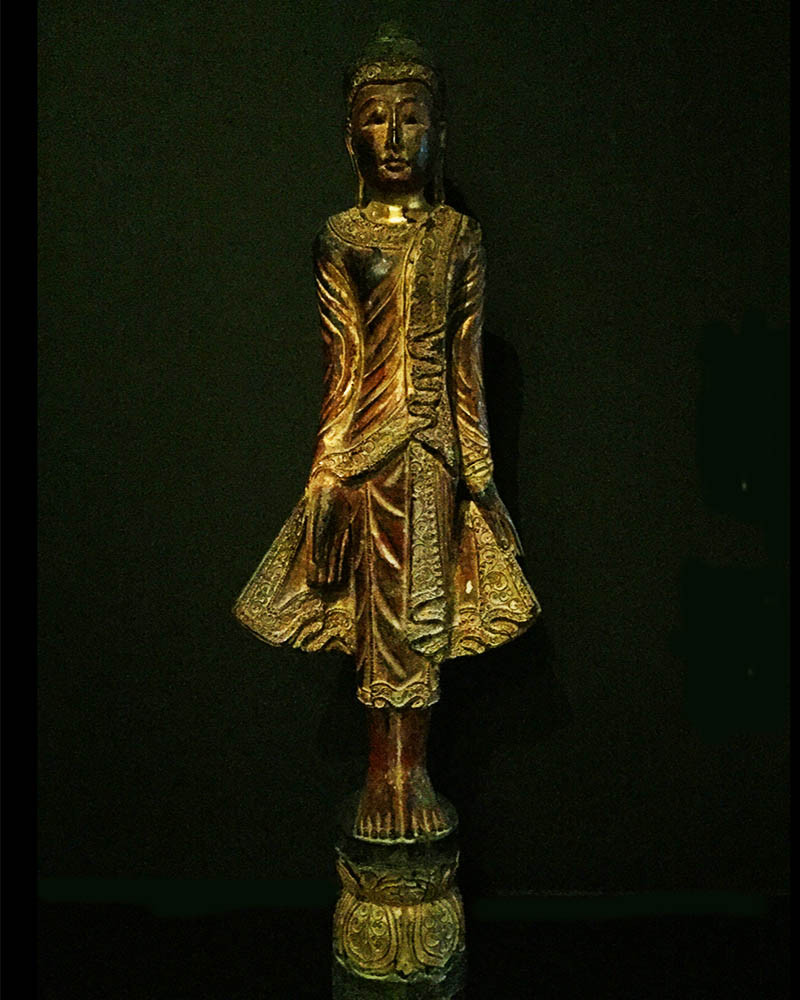  
Burma - Red and Gold Lacquer Buddha
Buddha statue in wood, black and red lacquer, gilded with gold leaf.
This statue measures approximately 76 cm in height and 25 cm in its widest width, for a depth of 9 cm.
Retour de voyage brought it back from Burma. It is a Mandalay statue of the late nineteenth century, finely sculpted, with embroideries on the dress and on the stand which is in the shape of a lotus flower.
Price upon request.
Buddhist art of Burma
Buddhism seems to have reached Burma at the same time as Thailand.
From Mahayanist obedience, Burmese Buddhism slipped, because of the Sri Lankan influence, towards Theravada Buddhism, at  the time of the Bagan period (1044-1287). The Burmese Buddhist art, following the Theravada Buddhism, does not offer a great variety of figures, but the artists have performed a very large number of works that they swarmed throughout Southeast Asia. The Burmese beliefs have developed the idea that one could gain merit by multiplying the number of Buddha images produced. This is the reason why you can find today such a proliferation of works in the temples of Myanmar, all same Buddhas (in niches, or outdoors on pedestals).
Data sheet
Type of product

Antics

Type of product

Craftmanship Burma - Myanmar

Gift Ideas

Deco

Gift Ideas

For Travellers
No customer reviews for the moment.