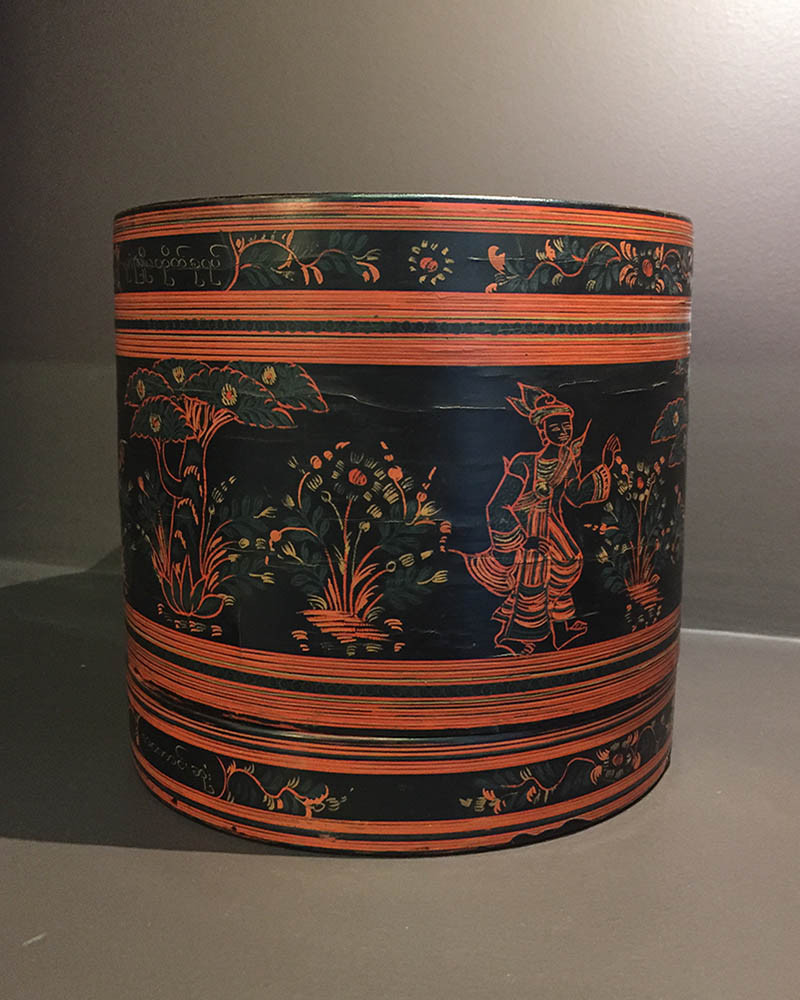  
Burma - Antique lacquer betel nut box
Typical of Burma, the betel box is made of bamboo covered with layers of lacquer (up to 15) and is finely painted on its multiple faces by a talented artist. On this box, we have a pattern of royal people enjoying the benefits of their garden, picking fruit from a tree in a flowerbed.
Dimension : height 15 cm ø 16 cm
This antique wood and lacquer Burmese betel nut box from 19th century Burma has intricate designs incised in fine black lines on its hatbox-style lid, high-sided container and two trays. Cylindrical boxes such as this, called "kun-it," were designed for storing and serving ingredients to assemble a quid, or chew, of betel, a mild stimulant that was also used to freshen breath. Nicely decorated kun-it were a key element of the hospitality process surrounding the chewing of betel, and this one made an impressive display when spread out on a low table so guests could select their preferred ingredients. This piece shows evidence of long use but the only damage is on a small area on the top . 
Data sheet
Type of product

Antics

Type of product

Craftmanship Burma - Myanmar

Gift Ideas

Deco

Gift Ideas

For curious people

Gift Ideas

For Travellers
No customer reviews for the moment.