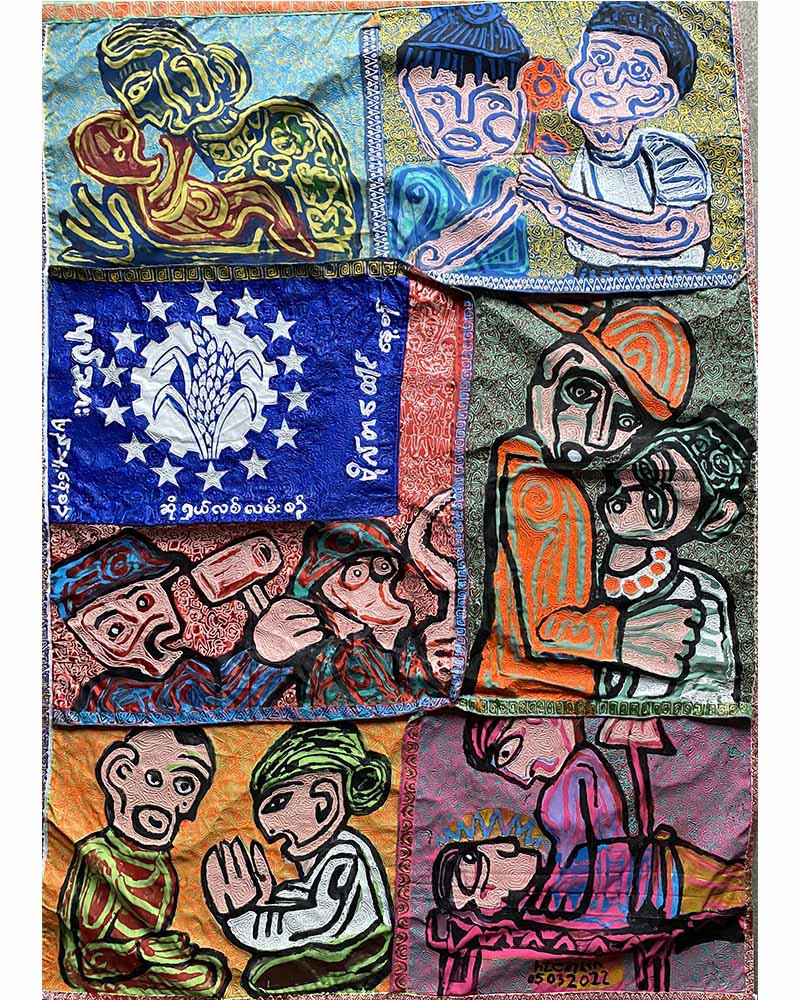  
Htein Lin - Socialiq Khiq
Socialiq Khiq - Htein Lin - 2022
Acrylic on coton
Size 104 cm x 146 cm
Socialiq Khiq - Acrylic on coton - Format 104 cm x 146 cm
'Socialiq Khiq' ဆိုရှယ်လစ် ခေတ် means the socialist era, a period between 1962 and 1988 when Burma was under the rule of General Ne Win and the Burma Socialist Programme Party.  Htein Lin was born in 1966 and came of age during that period. Burma was in self-imposed isolation, and a conservative and traditional predominantly Buddhist society. This painting shows traditionally, chaste acts of affection during five periods (khiq) of a Burmese person's life. The kiss a mother gives to a baby; the flower a young admirer passes to the girl he woos, which she smells, as a proxy for actual contact (the word for kiss and smell are the same, နမ်း (nam)); the brushing of cheeks between bride and groom, the closest form of contact, together with the 'layering of hands' (လက်ထပ် leq-htaq), the Burmese word for marriage; the paying of respects to a monk, for whom all form of contact with women is forbidden, even his wife from his lay life; and the final kiss bestowed upon the deceased. The sixth panel features the flag of the Burmese Way to Socialism, a period for which few Burmese have affection.In this painting Htein Lin continues his longterm practice, begun in jail, of painting with his fingers and printing on old clothing. The scenes are each captured in a different piece of cloth and the divisions between the speak of Burma's isolation and imprisonment during that long 'khiq'.
Data sheet
Type of product

Art - Paintings and Drawings

Gift Ideas

Artwork
No customer reviews for the moment.