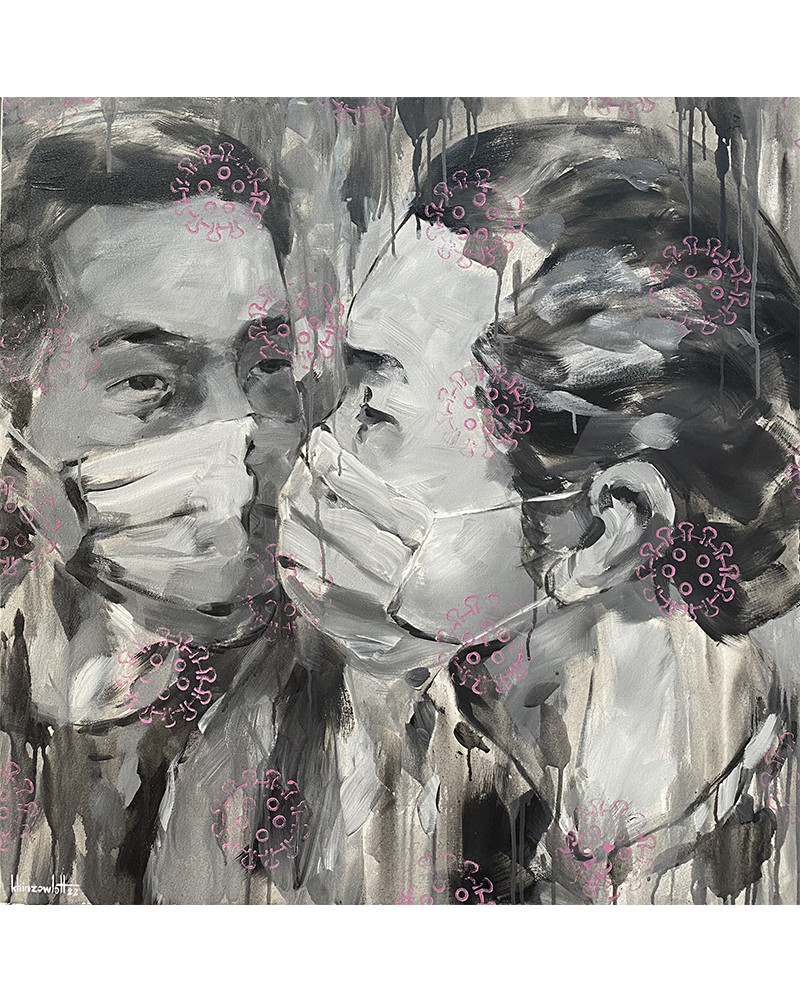  
Khin Zaw Latt - Kiss to myself
Kiss to myself
Acrylic on canvass by Khin Zaw Latt
92 x 92 cm
Khin Zaw Latt was born in 1980 in Laputta, Ayeyarwady Division, Myanmar. He grew up in a family of artists; his father was a pianist, his mother a Myanmar traditional dancer and one of his elder brothers a painter. He started drawing at a very young age. He attended the University of Culture in Yangon, where he studied painting and sculpture. After graduating, he travelled to a number of Asian countries in order to get inspiration for his art practice. He visited India, Nepal, Malaysia, where he attended an artists' residency. He also visited Thailand, Singapore and Hong Kong, while artists at home struggled under a heavy censorship regime,  forced them to be very careful in their choice of subject.
Here is a painting by Khin Zaw Latt, specially made by this great artist of the Burmese art scene for the exhibition of Retour De Voyage on the kiss. He puts himself on stage, with his image reflected in the mirror, during COVID. It is no coincidence that he chose to immortalize this time when, at the same time, the pandemic committed us to wearing the mask and in addition, the country underwent a brutal regime change on February 1, 2021. It is a bit like muzzling a suffering population a second time. It is also a commitment for Khin Zaw Latt who has always stood by the people who suffered the most by helping them to buy basic necessities to cure this disease, or simply by bringing them something to eat at the most difficult times.
Data sheet
Type of product

Art - Paintings and Drawings

Gift Ideas

Artwork
No customer reviews for the moment.