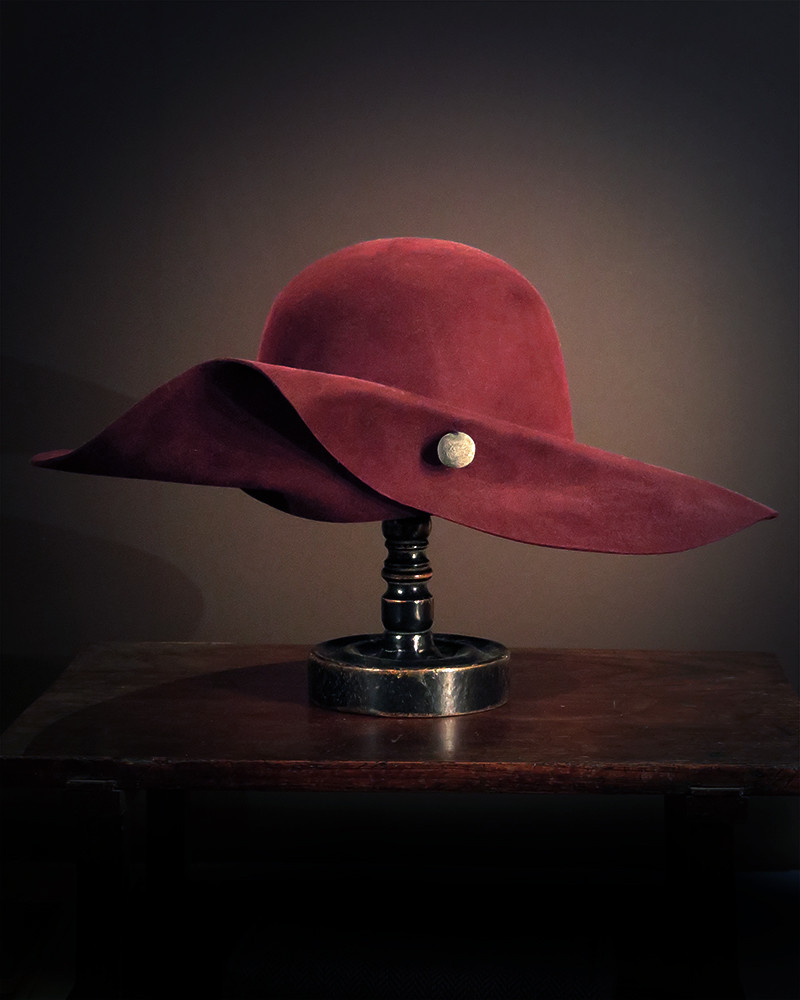  
Move - Bordeaux hat of a lady
A hat for an elegant lady, of a beautiful bordeaux color.
100% rabbit hair.
Very feminine hat, entirely handmade by Massimiliano Amicucci. One of its edges is raised for a "années folles" look, and maintained by a ball of gray felt, fitting with the burgundy of the hat. If you do not wear hats, this one deserves a place in the decoration of your boudoir, arranged on a vintage wooden turned hat holder.
Maximilian Amicucci, founder of "Move Roma" Officine del Cappello, designed and created for over 25 years hats and accessories for the film, theatre and opera industries . Each piece is created with natural materials and made entirely in Italy using traditional techniques.
These pretty hats, selected by Retour De Voyage, were created by Massimiliano Amicucci in Rome where this cinema costume designer set up his studio. He creates beautiful hats and his inspiration seems boundless: from the cowboy hat to the bowler hat, to nice knick-knacks for chic ladies and large felt hats to face the frimas. In summer, he turns instead to straw hats and the "must have" is the very large white straw hat with black veil.
Main issue is to know how to choose your favorite hat. Keep in mind that you can exhibit your hats as very amazing decorations, when put on a vintage wooden hat holder. 
Data sheet
Type of product

Designers - Hats

Gift Ideas

For curious people

Gift Ideas

For Lovers

Gift Ideas

Mothers Day
No customer reviews for the moment.