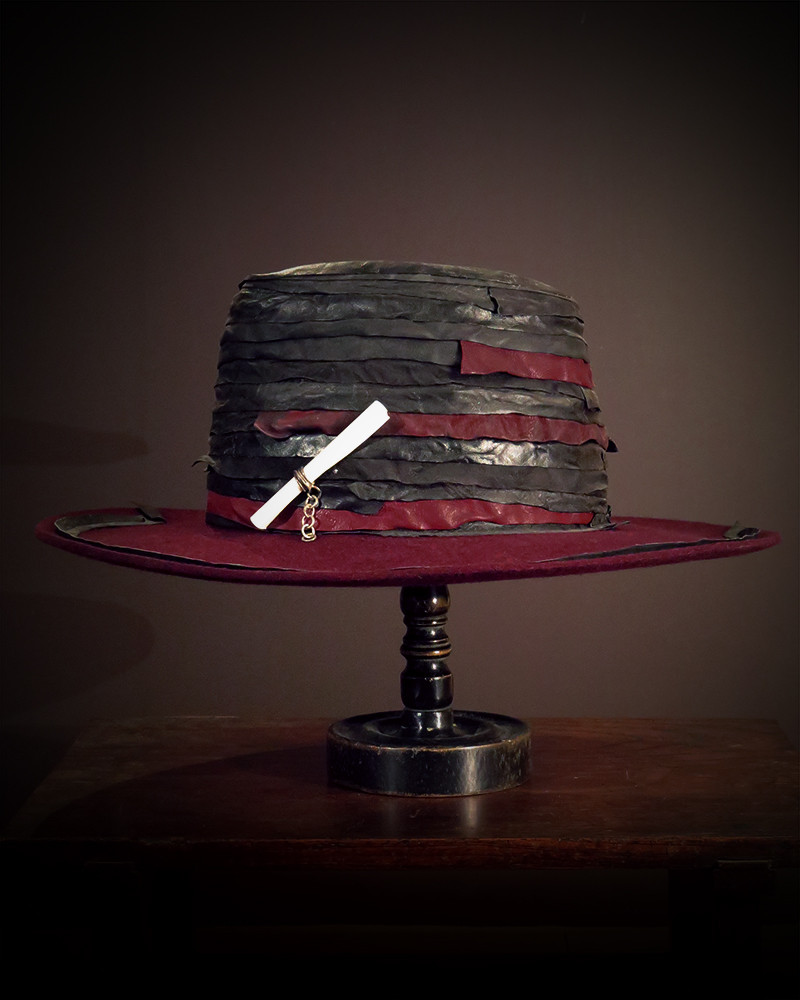  
Move - Hat with silver cigarette holder
Hat entirely hand-made by Massimiliano Amicucci, with felt and leather. Remember Johnny Depp in "Charlie and the Chocolate Factory"? The same designer who produced his hat produced this one too.
Former costume and hats designer for movies, Massimiliano Amicucci runs Italian brand "MOVE ROMA".
You know him trough the latest films "Sherlock Holmes" "Les Miserables" "007 Spector" and through Tim Burton's films where his hats play a predominant role.
Massimiliano carries out his trade in a traditional way, respecting all the processes of the hatters of ancient times, a genuine craft brought back to the taste of the day to create hats extremely and incredibly well finished! To these techniques, he adds an endless imagination and a style that belong to him. One recognizes a Massimiliano's hat among all the others, thanks to its originality, its outfit, its details "that kill", the perfection of finishes.
On this felt model, aged and hardened leather ribbons are superimposed to create waves that come to shore on the edge of the blue hat and that superimpose themselves in different colors and cuts on the burgundy hat.
Each one is equipped on the front left side with a small silver jewel certified 925 through which you can place your cigarette or a small message on a thin rolled paper..
Data sheet
Type of product

Designers - Hats

Gift Ideas

For curious people
No customer reviews for the moment.