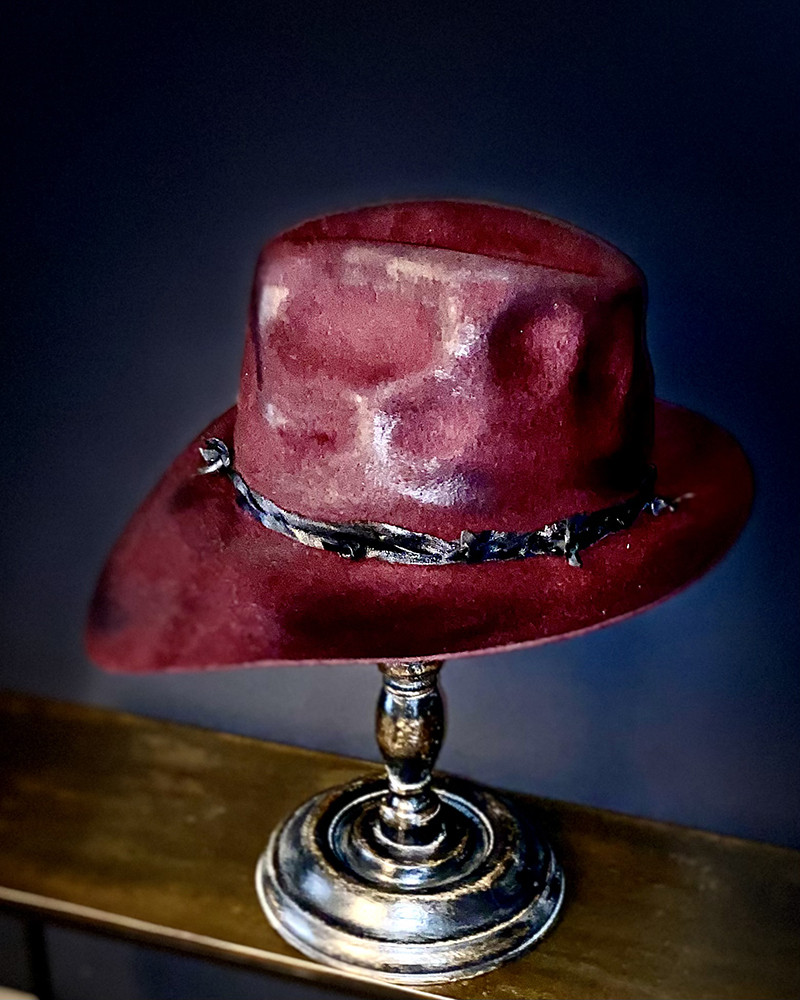  
Move - Bordeaux cowboy hat, leather cord
Move - Handmade cowboy hat
100% rabbit hair and leather cord
Size 57 - Burgundy colour
Height : 14,5cm
Borders: 5,5cm behind and 10cm in front
Retour De Voyage selection
This hat, entirely handmade by Massimiliano Amicucci, is of exceptional quality. Made of burgundy leather, it is embraced by a black leather cord that underlines its original shape. For sure, it will give you the assurance of a real cowboy even if you are in the heart of Paris. This is the magic of Massimiliano... 
Massimiliano Amicucci surely reminds you of something... And for good reason! He worked with Tim Burton and made the hats of the no less famous Johnny Depp as the mad hatter in "Alice in Wonderland"... Quite classy! Retour De Voyage met Massimiliano Amicucci in Rome where this film costume designer has set up his workshop. He creates magnificent hats and his inspiration seems limitless: from cowboy hats to bowler hats, from pretty bibis for chic ladies to big felt hats to face the cold weather. In the summer, he turns to straw hats and the must-have is the very large white straw hat with black veil. But he also creates leather hats, (don't forget this when you are driving your convertible torpedo) hats that fold up to fit in your suitcase, hunting hats...
"esto realizzato esclusivamente a mano da MOVE secondo le antiche regole artigianali, con materiali naturali al 100% tutto cio rende il capo unico"
Data sheet
Type of product

Designers - Hats

Gift Ideas

For curious people

Gift Ideas

For Travellers

Gift Ideas

For Lovers
No customer reviews for the moment.