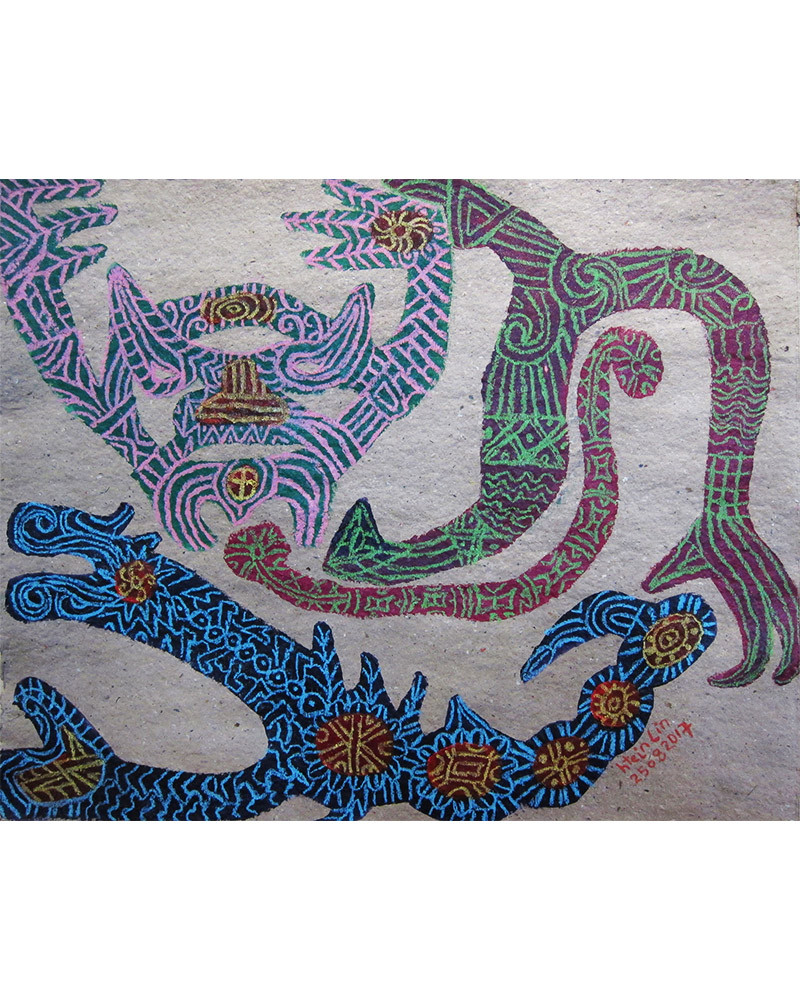  
Htein Lin - Recycled 1803
The "Recycled" series is a very personal project for Htein Lin. When an emotion touches him, an event disturbs him - or rejoices him, he draws and restores his thoughts on these "recycled".
Ma-ba-tha is the acronym for the protection of race and religion group that emerged from the 969 movement of extremist monks. The ma is an ogre, The ba is an eagletalon, The tha is a #scorpion. There is also a poisonous snake because their teaching is poisonous for Buddhism.
Acrylic on Recycled cardboard
Size: 92 cm x 76 cm
The "Recycled" series is a very personal project for Htein Lin. When he was in prison, he created many works on A4 paper in secret, which he managed to covertly get out and sent to his wife to get them to safety. Unfortunately, she was angry with him, and she gave all these pieces of paper to the waste collector. When Htein Lin finally left prison and learned what had happened to his work, he went to the waste collector. He could find no trace of his work, but he saw the recycled material - large sheets of thick, rough cardboard that he believed could contain some of his works. So, he bought many of these sheets of recycled cardboard, which he has since used as a canvas for his paintings, including those he created during his years spent in London. He never completely covers the cardboard with his paintings. The exposed surfaces allow a clear view of part of the substrate, with all its coarse imperfections. Most of these sheets are not really flat. They seem to have gentle ripples, and Htein Lin uses this feature accordingly to lay out his work. They stick out the frame, going against the traditional construction of a two-dimensional painting. He noticed that it was impossible to completely flatten the cardboard sheets, which went back to their original shape by themselves. Htein Lin sees this as a message of hope with regard to his own recycling. All different and distinctive, yet with certain recurring motifs, these works seem to map out Htein Lin's subconscious. He draws curved lines and wavy columns, shapes which flow directly from his imagination to his brush. They are often full of small drawings which derive from the traditional sculptures of Myanmar and were also the favourite motifs of Bagyi Aung Soe, one of the masters of modern art in Myanmar and a hero figure for Htein Lin. Circles and wheels appear frequently and reflect Htein Lin's Buddhist beliefs regarding the circle of life. Returning to life after nearly seven years in prison, Htein Lin said that he personally felt "recycled" - rather harshly, yet full of a new purpose. At the same time, he felt the need to continue painting the "Recycled" series for his artistic development. He realised that we are not recycled just once, but rather again and again, a process rather than an end.
Acrylic on Recycled cardboard
Size: 92 cm x 76 cm
Data sheet
Type of product

Art - Paintings and Drawings

Gift Ideas

Artwork
No customer reviews for the moment.