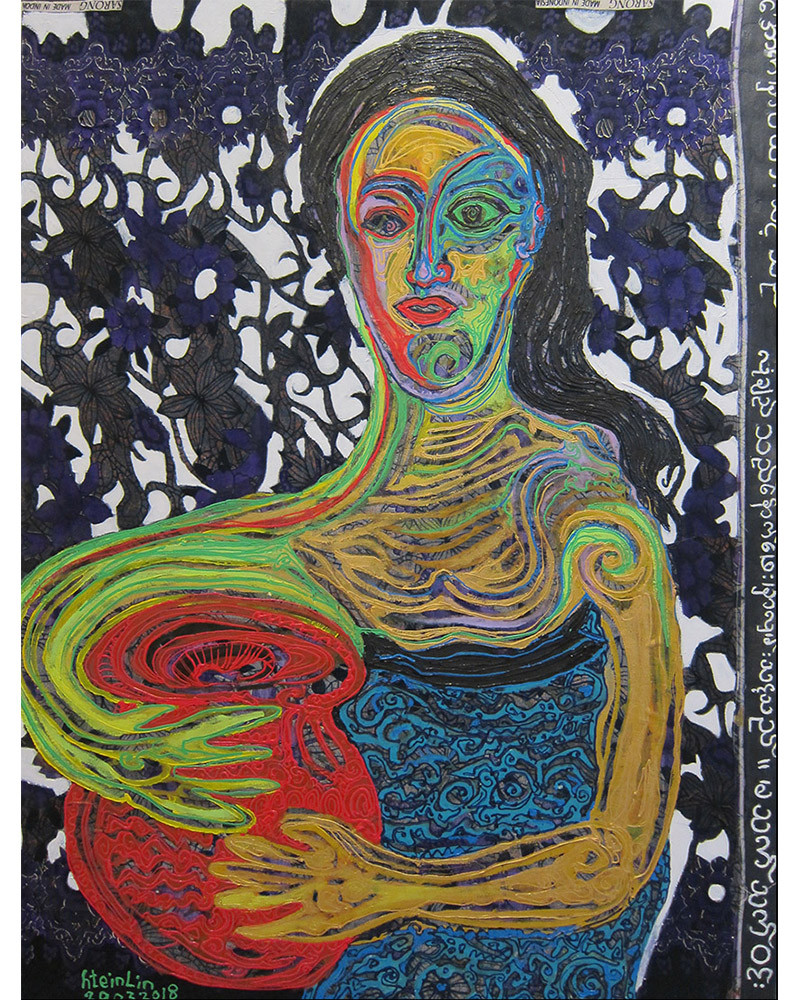  
Htein Lin - Skirting the issue
SOLD
« Skirting the issue » - Htein Lin
This painting is the first of the series, created for the exhibition "skirting the Issue" at the Galerie Retour De Voyage, Spring 2018, with the young artist chuu Way Nyein.
Acrylic on longyi
Size 29 cm x 122 cm
Htein Lin's studio is located in an industrial area of Yangon, where there are a series of small factories, many of which employ a workforce of women.  Htein Lin would see these workers heading to work each day, and wonder what their "real" lives were like – away from the factory.
As this exhibition examines questions of Myanmar women's identities and their evolving position in a traditionally conservative Buddhist society, Htein Lin decided to explore women's attitudes towards their traditional longyi – a sarong-like garment worn by almost all women in Myanmar.  
He invited the women workers in his neighbourhood to participate in his art project, firstly requesting they give him one of their old longyis.  He stretched the longyi over his canvas, ensuring the black band which attaches to the top edge was visible at the edge of his canvas.  He then asked them to sit while he painted their portrait and talked to them about their lives and their longyis.  In particular, he was exploring their opinions about a traditional Myanmar belief that male and female longyis should not be mixed together, either in a washing machine or when they are drying in the sun outside. Women's longyis should take a subservient position to men's longyis, and certainly should not be shown above a man's longyi.  The traditional belief is that men's power, strength and success can be undermined if his longyi is "tainted" by a woman's longyi.
Htein Lin asked Thet Thet Win, the woman whose portrait he painted, where she thought her longyi should be put after washing.  She replied that it should be around the back – not in the front yard.  Next question was where on the wall this painting Htein Lin was making should be hung.  She replied that it could be on the wall, but lower down.  Htein Lin asked her to write this in chalk in her own hand on the black band of the longyi.  Later, he went over the text with acrylic on a fine brush.
This creative and elliptical approach to a facet of Myanmar life is typical of Htein Lin's art practice.  With this bold and striking artwork, Htein Lin asks his audience to think anew about a traditional Myanmar custom, gently wondering whether it continues to enrich and have relevance in our rapidly changing times.
Acrylic on longyi
Size: 92 cm x 76 cm
Data sheet
Type of product

Art - Paintings and Drawings

Gift Ideas

Artwork
No customer reviews for the moment.