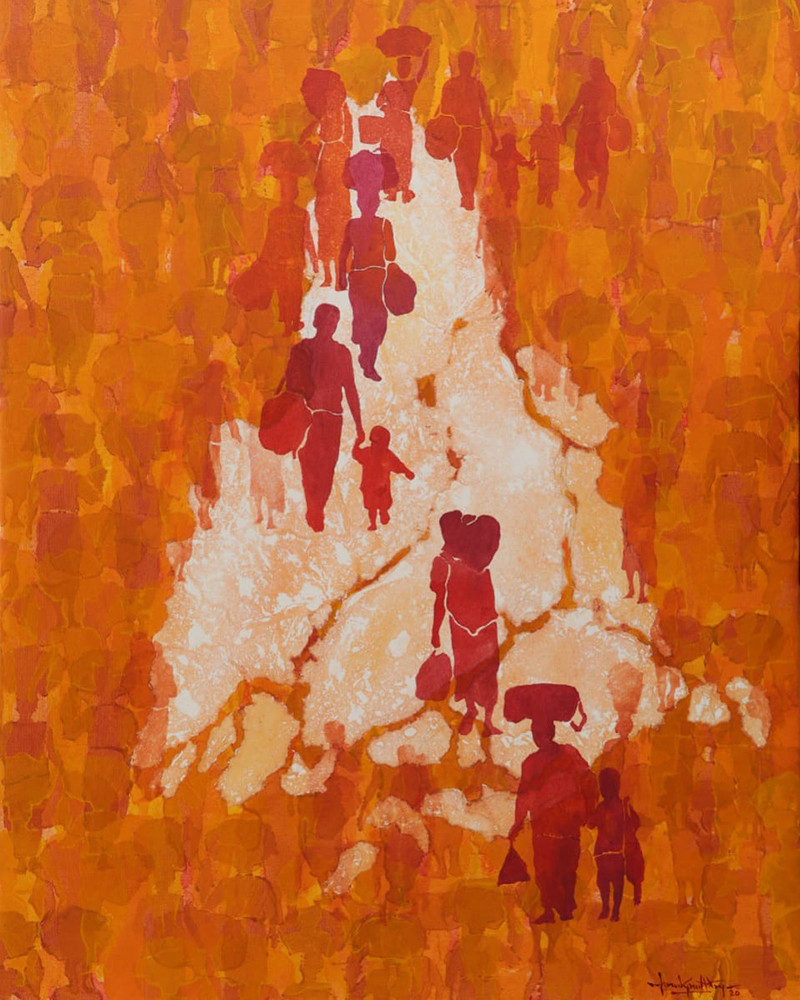  
Than Kyaw Htay - Silent Walks, Myanmar Divisions
painting of Than Kyaw Htay "silent walks": migrations of populations on each of the divisions of Myanmar. (92 cm x 122 cm) , with map background and iconic location.
Myanmar is a country cut off from the outside world by the arrival of Ne Win, who in 1962 established a military regime, between socialist autarky and isolationism. The military junta put an end to any democratic process after the protests of 1988 and Aung San Suu Kyi became the symbol of Burmese dissent. The fact that it won the legislative elections in 1990 does not change much since the military refuses to recognize the results of the elections and to give up power, until the 2015 elections where Aung San Suu Kyi becomes "Secretary of State", but still under military control.
At all times, Myanmar has been a place of migration and exodus, amplified by the tenacious repressions of the military junta against the rebellions of ethnic groups who have always tried to preserve their natural wealth and flee the oppression of centralisation. The reunification of Myanmar has established 7 subdivisions of "the Burmese state", which is located in the center of the country and 7 "States" (one could say Provinces ) which correspond to the dominant ethnic groups in Burma: the Shans, the Karen, the Chins, the Mons, the Kayas, the Kachin and of course the Arrakan, the Rakhine State, in front of the news with the terrible repression of the Rohingya.
The subdivisions are: Yangon, the big city, the Irrawaddy with its famous Delta, very hard affected by the cyclone Nargis in 2008, Magway, in the middle of the country, Sagaing with in its upper part mines that attract many researchers... Mandalay the second largest city of the country with two divisions, former capital of the kingdom, Tanintharyi at the Thai border.
Data sheet
Type of product

Art - Paintings and Drawings

Gift Ideas

For Travellers

Gift Ideas

Artwork
No customer reviews for the moment.