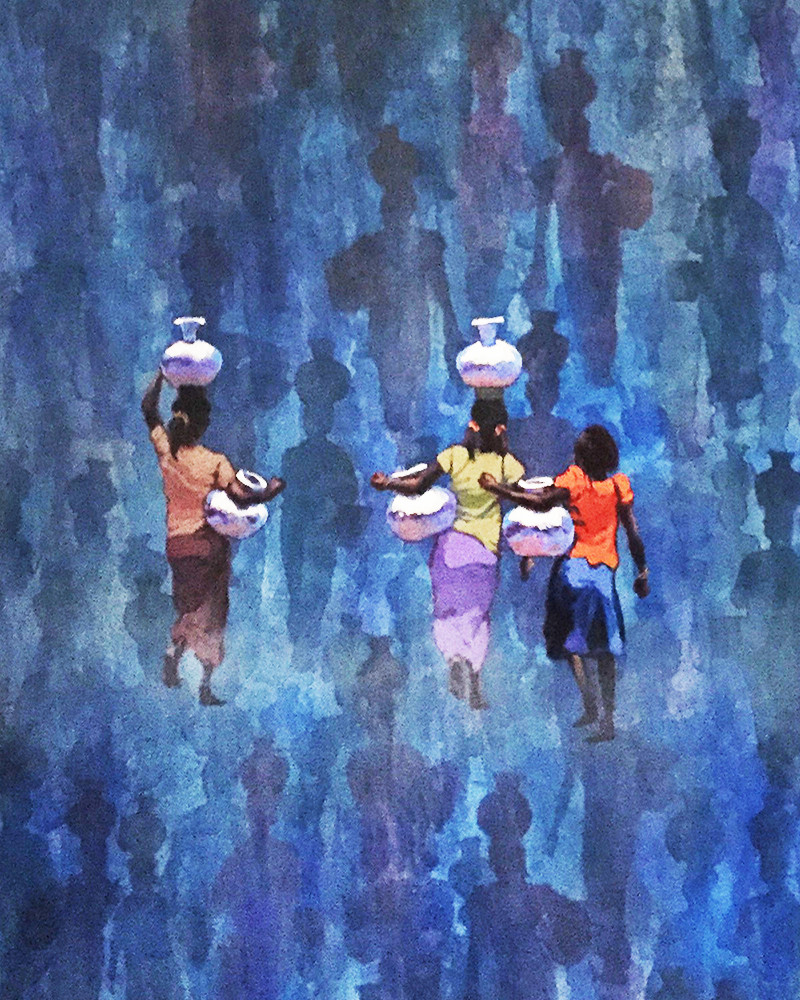  
Than Kyaw Htay - Silent Moves 1704
Burmese painter Than Kyaw Htay has been represented by Retour De Voyage- Art Gallery since 2015.
A solid friendship has been forged between us. He shared with us beautiful places and friendships in Myanmar and we have taken pleasure in making him discover France by inviting him several times. Thanks to him, we know nice burmese painters, Sint Sint May, Saw Thazin Phyu and Saw Hnin Ye Phyu. 
Acrylic on canvas 53 cm x 91 cm
SOLD
The Theme of « Silent Moves » is the movement of people who leave their native land for new opportunities. Than Kyaw Htay himself is a migrant. He was born in 1978 in Rakhine State's Sitwe and he likes to say that to search for opportunities and a better life is one of the reasons for migration. In the case of Myanmar, Yangon is often home to those opportunities. It is the place where people from all over the country come to look for educational and occupational prospects. The ethnic Arakanese artist studied at the State School of Fine Art in Yangon in 1997. He made his name with a serie off Mrauk-U and Bagan scenes in 2004.
In his "Silent Moves" series, large crowds of people are moving, some carrying bundles of clothes on their heads and some pulling their children. The artist elicits the internal pain of the migrants in minimal brushstrokes. Viewers are left uneasy with their unanswered questions. Who are these people? Where are they leaving from and where are they headed for? And, most disturbingly, why are the people leaving?"
After the Rohingyas crisis, Htan Kyaw Htay dares to give deeper explanations and speaks now about drawing on human tragedy in Rakhine State for his latest exhibitions.
In recent months it's become an all too familiar scene. Lines of destitute people, some carrying clothes, others sacks of rice, sons carrying grandparents, mothers carrying babies, snaking over mountains and through abandoned paddy fields; a mass migration from conflict towards the unknown. 
For those familiar with the work of Than Kyaw Htay, Silent Move sees a break from the impressionism which has so far defined his career and instead a move towards the abstract, with a large emphasis on texture rather than brushstrokes. 
While his previous paintings depicted scenes of daily life in his native Rakhine State to bright yellow, red, and purple backdrops, his latest works convey a more subdued tone, reflective of the crisis unfolding in his native home. 
"When I left Sittwe in 1997 for Yangon, our family and our Muslim neighbours had no problem. We were familiar with each other and were peaceful.  But right now the situation in Rakhine is very different.  This situation is very sad for all Rakhine people," said Than Kyaw Htay.
The mass of silhouetted subjects which cover all the canvases in Silent Move carry their belongings in big packs atop their heads. 
Looking at not just those lives upended in Rakhine State but those forced to move as a result of war all over the globe, the colours of Silent Move reflect those of people's lives when they are forced to move to another place, says Than Kyaw Htay.
Gold Shan paper is used to bring groups of subjects into the foreground by contrasting with the heavy browns, blues, reds, and yellows of the background. 
The resulting works are suggestive of those well circulated images of people fleeing conflict in Rakhine: the brightly coloured longyi and headscarves in contrast with the deep blue mountains and purple smoke which fills the horizon.
"All of these colours represent the many peoples' feelings when they made their silent move. Especially in Rakhine, many people feel worried, afraid and sad," said Than Kyaw Htay. 
Data sheet
Type of product

Art - Paintings and Drawings

Gift Ideas

Artwork
No customer reviews for the moment.