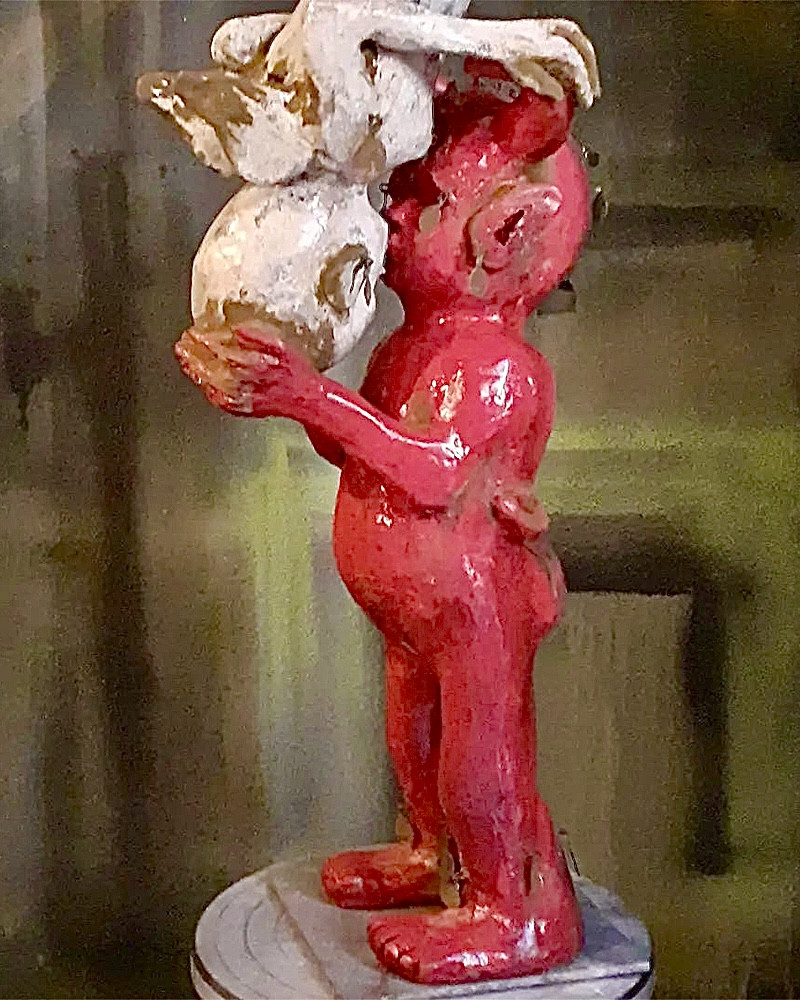  
Pierre Sgamma - Angel and devil, double kiss
The kiss of the angel and the devil
Ceramic sculpture, enamelled sandstone and iron oxide by the artist Pierre Sgamma
Height 50 cm x 20 cm x 30 cm
SOLD
The kiss of the devil and the angel and the demon, interpreted by Pierre Sgamma, reveals details full of humor and tenderness... look at the hands! To avoid giving in to temptation, the angel had to cover himself with a multitude of small medals, which does not seem to discourage our red-haired devil. 
Impossible to remain indifferent to the creations of Pierre Sgamma. His creations, sometimes enigmatic, disturb, move, provoke and even shock. This artist has developed his own plastic language, a singular universe that unfolds in a great freedom of expression. All in poetry and sensitivity, the world of Pierre Sgamma shakes us, scratches us and swings us between tearing and appeasement. He transcends the established codes by juxtaposing the sublime and the grotesque, the candor and the perversity. He says, "In the most intense moments of production and creation, I don't work, I play. Each piece is a piece of me, loaded with my experience of love, violence, fears, lacks, desires. I make fun of myself, of this great comedy that is life." 
Retour De Voyage loves the technical prowess of this sculpture that defies the laws of gravity. 
Data sheet
Type of product

Art - Sculpture

Gift Ideas

Artwork
No customer reviews for the moment.