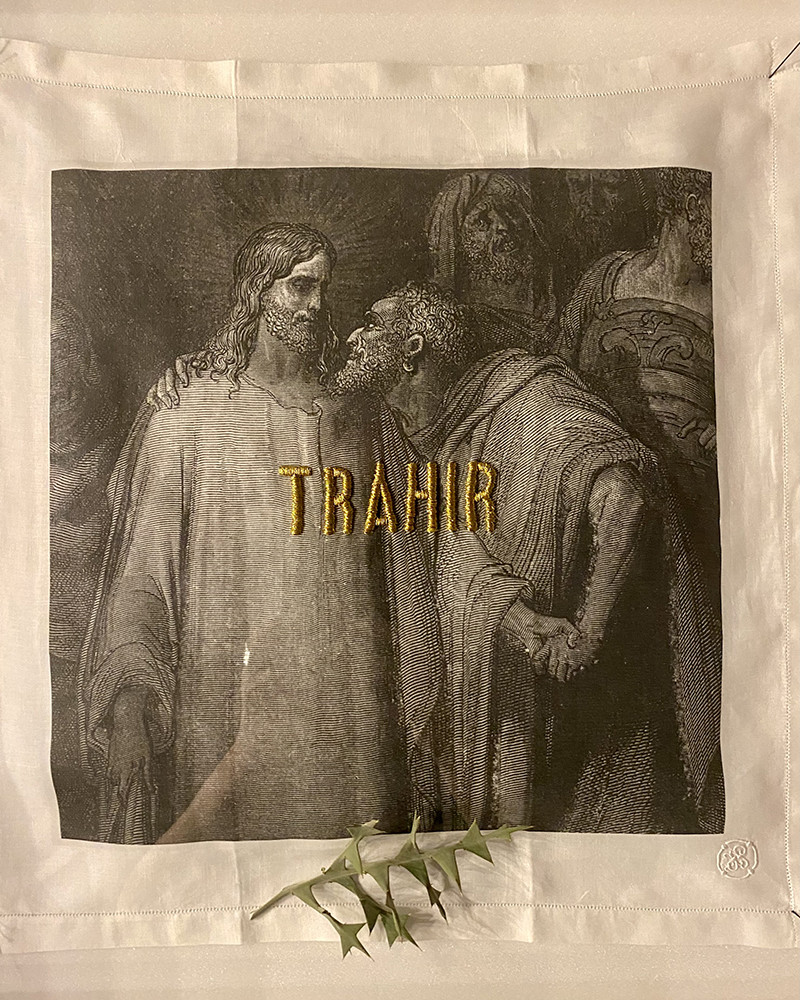  
Christine Ferrer - The kiss of Judas
THE KISS OF JUDAS, dim 48 X 48 cm
Series of 5, sold individually or in installation of 5
THE KISS OF JUDAS, dim 48 X 48 cm
This mythical scene, signs the shift from one world to another. With this kiss, Christ is designated, arrested and crucified. A kiss can change a life. Be the founding act of a union. And this is what is addressed in this reinterpretation of Gustave Doré's painting. It is the importance of a gesture of desire, and desire is our master.
Former Model, Christine draws her inspiration from the image of body and clothes... By dedicating herself in the years 2010 to the plastic art, she enchains the successes that she declines through her famous luminous dresses, mail art and other creations where the crystals, the golden threads and different plants, especially the vine stocks are mixed... "Everything I do comes from encounters, I explore all the subjects..." likes to say Christine, and it is true that when we submitted the theme of this new exhibition to her, she immediately reacted positively and a few weeks later, she proposed us this subtle and delicate work where we find her signature and her art of embroidery...
Retour De Voyage is so happy and proud to present this work in this exhibition "a kiss". Like a reminder of the solo show, one of Christine's first exhibitions "Traverser" we had with her in our gallery.
Data sheet
Type of product

Art - Sculpture

Gift Ideas

Artwork
No customer reviews for the moment.