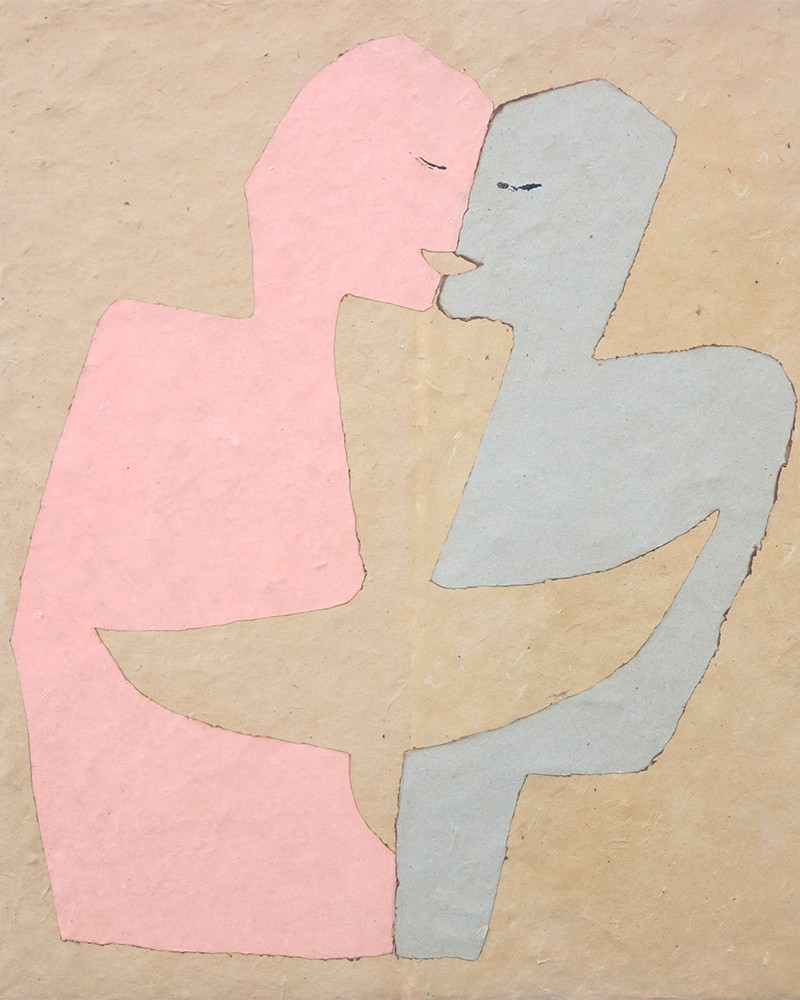  
Anne Vilsbœll - Give me that kiss (2)
Donne-moi ce baiser de colombe, tu sais...
43 x 53 cm
Burnt paper forms (jute, kozo, nettle and hemp), on canvas with frame
Anne Vilsbœll is a citizen artist of the world. Born in Denmark, she has travelled all over the world. Very early on, she became interested in paper as an artistic medium and became a world-renowned specialist in its manufacture from natural fibres. This raw material allows her to create textures so particular and her paintings and installations are a perfect osmosis between her supports each time different and the colors perfectly mastered. 
The "kiss" as the motif and starting point of the painting and lithography appears occasionally in the practice of Anne Vilsbœll since the early 90s. For her a kiss - in Danish: "kys"- connects our words and actions as a confident breath towards each other. For the current exhibition, Anne Vilsbœll has created 3 works, where this joy, this enjoyment and this confidence are expressed in a kiss as a message of peace in symbiosis with nature. To get the best paper, she makes it herself. The support of these 3 works is made from plants: jute, kozo, nettle and manila hemp. Anne reminds us that the Indians were pioneers of kissing, the first known descriptions of kissing as a romantic phenomenon can be found in the Indian poem "Mahabharata," "She put her mouth on my mouth and made a sound that I liked," it says in the "Mahabharata". Historians think that kissing at that time was unknown in the rest of the world and that it was Alexander the Great who introduced the custom in Europe.
Data sheet
Type of product

Art - Paintings and Drawings

Gift Ideas

Artwork
No customer reviews for the moment.