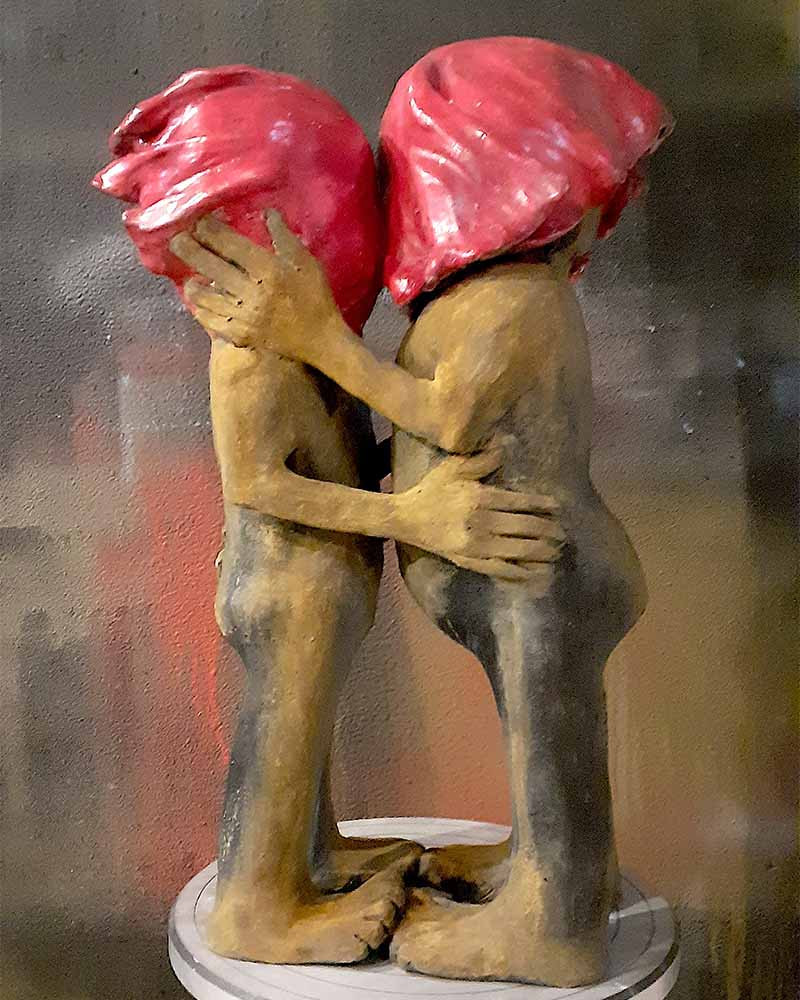  
Pierre Sgamma - Mysterious lovers
According to Magritte... Mysterious lovers
Ceramic sculpture, enamelled sandstone and iron oxide by the artist Pierre Sgamma
Height 50 cm x 20 cm x 30 cm
SOLD
Mysterious Lovers is a surrealist painting painted by René Magritte in 1928. It depicts a couple kissing on their lips, but their respective faces are covered by a sheet. It is kept at MOMA in New York. Pierre Sgamma was inspired by this painting to create this double ceramic statue, very evocative and mysterious at the same time.
All in poetry and sensitivity, the work of Pierre Sgamma is this balance between tearing and appeasement, imaginary and real, sensual and spiritual, light and dark, angels and demons, liturgy and paganism, horror and grace. It is in this spiritual approach that the artist joins the sorcerer in a process of transformation and transmission. "... these ceramics are part of a work called the tribe I started in 2004. At that time, I met several African, Japanese, Indian and European ceramicists… They awaken in me the desire and the art of "FIRE"..." I then begin to learn about the different types of cooking, wood, electricity, gas. The character is autobiographical. It is a pretext to talk about our affects. Nourished by counts, legends, mythology and beliefs, religious, pagan or ethnic, my work speaks of us..."
Data sheet
Type of product

Art - Sculpture

Gift Ideas

Artwork
No customer reviews for the moment.