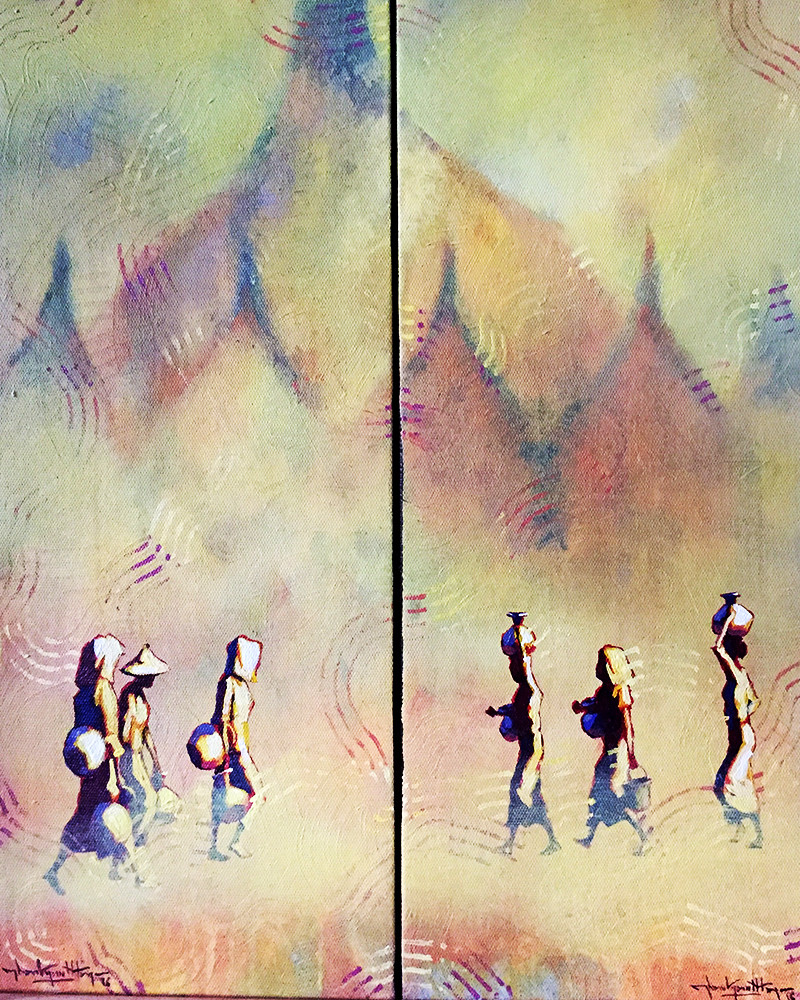  
Than Kyaw Htay - Silent Sweat 1710
This painting belongs to the series "Silent Sweat", by Burmese painter Than Kyaw Htay.
Than Kyaw Htay has always been concerned with the living conditions in the villages of the Arakan state where he was born. These villages are successively affected by dryness and then flooding during the monsoon season. His childhood memories revolve around the quest for water during the hottest months, when the reservoirs are dry and when it takes several hours to walk to next point of water.
Acrylic on canvas - Diptyque 46 cm x 54 cm
Htan Kyaw Htay says he depicts the landscape in vibrant, vivid colors, because his people are longing for a brighter future as they stare into the distance. He depicts the backs of people because Myanmar has turned its back on the world, but the figures are often outlined with a thin, uneven rim of warm contrasting color, representing a sliver of hope in an otherwise grim reality. Inspired by Van Gogh, Than Kyaw Htay gives his paintings texture and added depth by scratching a comb through the pigments, at times revealing the contrasting underpainting. This technique smoothes and integrates the tones of the figures, clothes and landscape, giving the works an added dimension and energy.
This series is now finished, only a few of these works remain that have given way to the series Silent Steps and Silent Walks.
Data sheet
Type of product

Art - Paintings and Drawings

Gift Ideas

Artwork
No customer reviews for the moment.