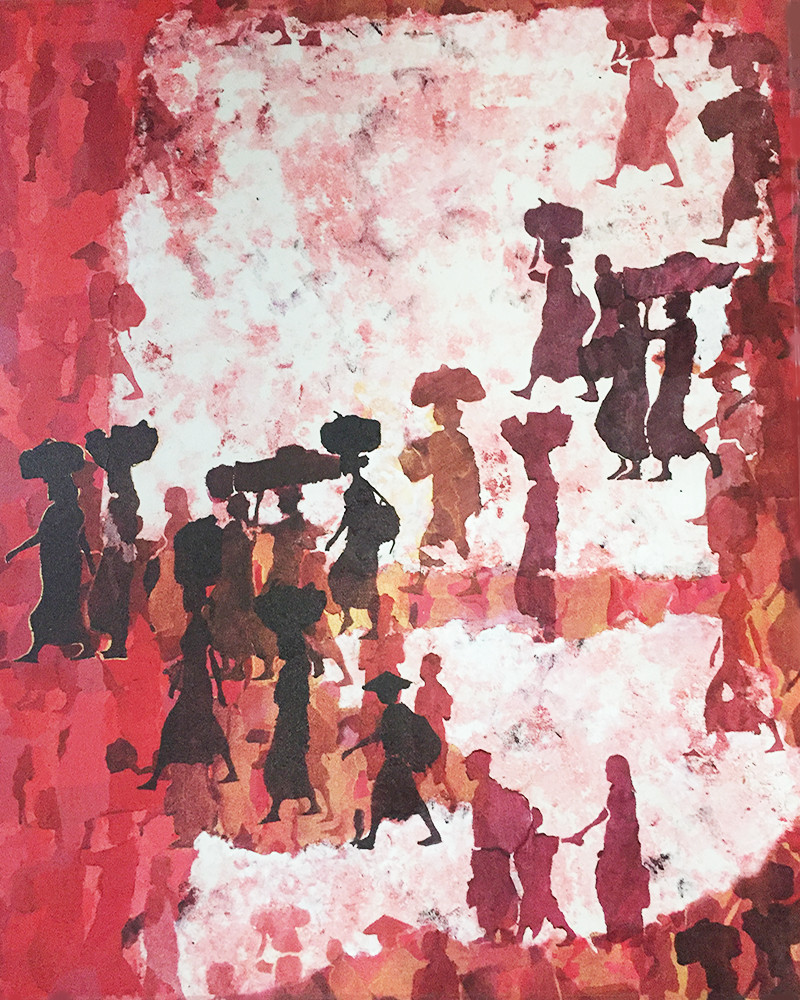  
Than Kyaw Htay - Migrations 1901
Burmese painter Than Kyaw Htay has been represented by Retour De Voyage- Art Gallery since 2015.
A solid friendship has been forged between us. He shared with us beautiful places and friendships in Myanmar and we have taken pleasure in making him discover France by inviting him several times. Thanks to him, we know nice burmese painters, Sint Sint May, Saw Thazin Phyu and Saw Hnin Ye Phyu. 
After the Rohingyas crisis, Htan Kyaw Htay dares to give deeper explanations concerning his inspiration and speaks now about drawing on human tragedy in Rakhine State for his latest exhibitions.
In recent months it's become an all too familiar scene. Lines of destitute people, some carrying clothes, others sacks of rice, sons carrying grandparents, mothers carrying babies, snaking over mountains and through abandoned paddy fields; a mass migration from conflict towards the unknown. 
Than Kyaw Htay is a gifted painter and he is also a film maker.
His film "Silence in Mrauk Oo" is about a man who returns to Rakhine State's Mrauk Oo from Yangon looking for answers regarding the death of his father during January's protest in the township."This is a fictional story based on the actual Mrauk Oo protest; it is inspired by the reality, which is that no one wants to talk about the protest in January. Everyone stays silent," Than Kyaw Htay said. "As a son, he wants to know about his father's death, and asks questions of his relatives, monks and friends, but no one gives him a proper answer. So, I think we can see his curiosity, sadness and anger through the dialogue in the film". 
Data sheet
Type of product

Art - Paintings and Drawings

Gift Ideas

Artwork
No customer reviews for the moment.