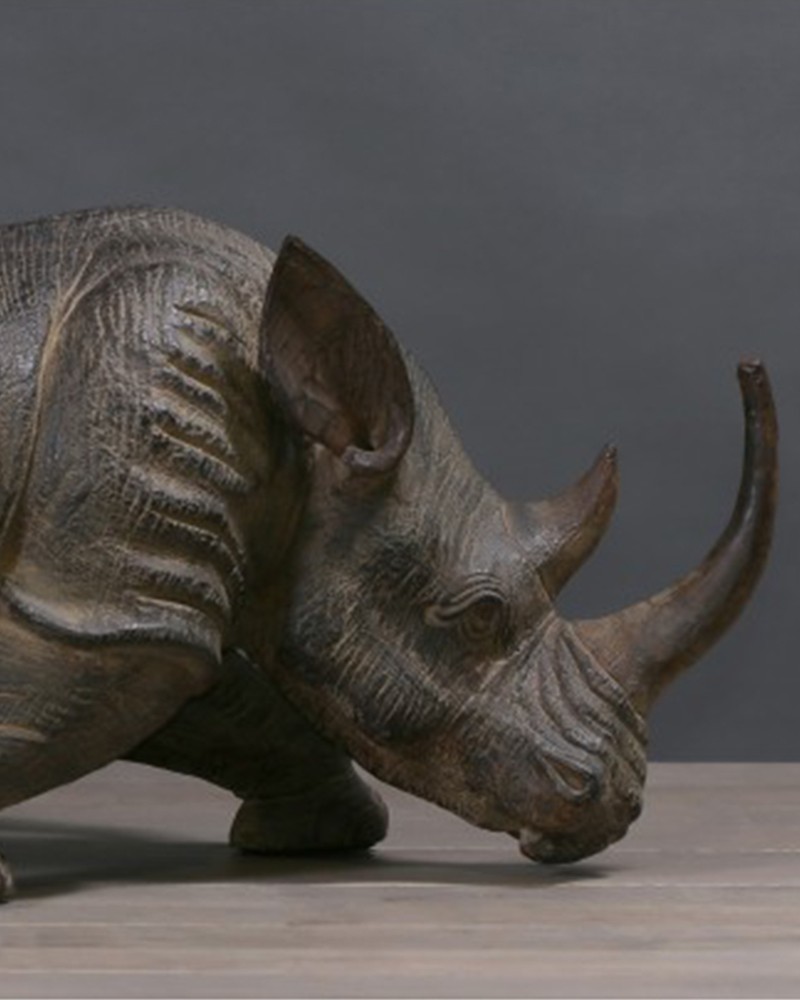  
Collection Rhino
Collector's Rhinoceros
Terracotta
Selected by Retour De Voyage
Dimensions Small : 60 x 26 cm x 25 cm
Dimensions Tall : 70 x 28 cm x 30 cmn
This curious rhinoceros is so disturbing that it looks real. This terracotta object is a faithful reproduction of the famous African animal in the tradition of the natural history museum. Although it is not the size of a real rhinoceros, it is nevertheless impressive in its realism. The details of the skin, the eyes, the gait and the stature give it a real aura. It must be said that this extravagant animal has always impressed Man by its massive appearance. It is riddled with paradoxes: although it often appears passive and master of the land it treads, the rhinoceros is nonetheless one of the most aggressive animals known. As one of the largest land mammals, it has become an emblematic animal, symbolising the solitary, strong, protective and wise being. 
Poached for its horn, we were surprised to learn during our last trip to South Africa that there are now farms of this endangered animal. The association of private rhino owners markets the horns, which are taken from the animal in a legal and non-brutal way. The horns are made of keratin like human fingernails and can be sawed off the sleeping rhinos and then grow back.
Retour De Voyage offers you a rhino that is much more docile and less cumbersome than a real one, but so realistic that you could strut around claiming that you have an extraordinary pet. 
Data sheet
Type of product

Craftmanship

Type of product

Object of curiosity
No customer reviews for the moment.