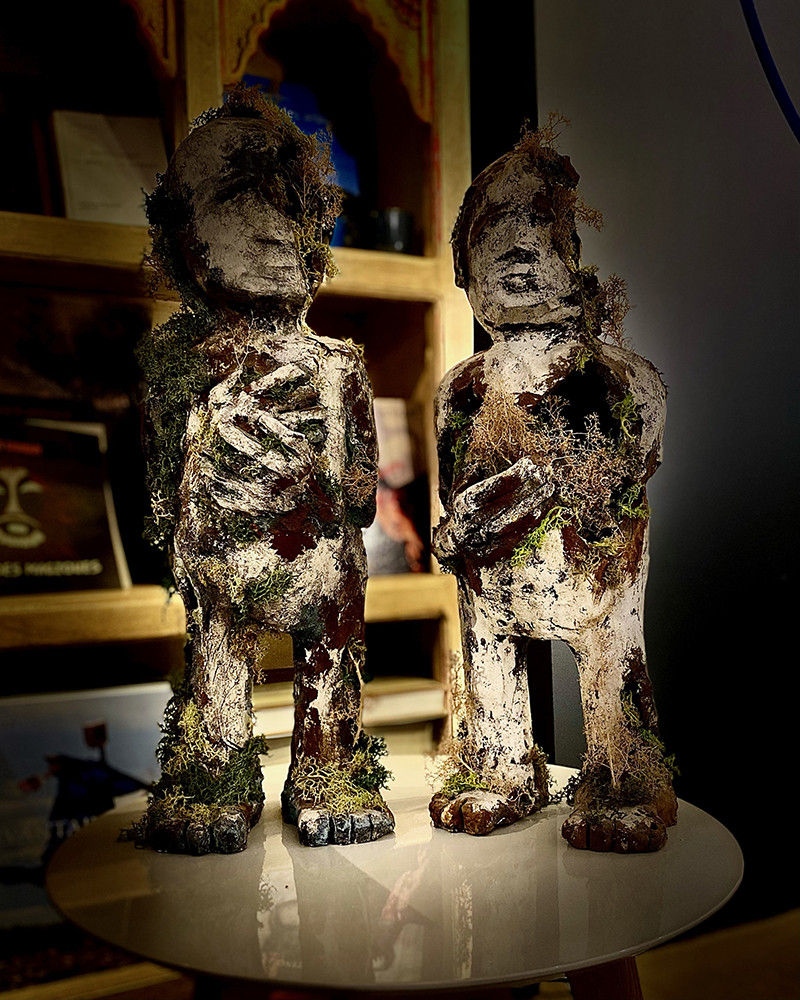  
Pierre Sgamma - Nature, Koople
Nature, Koople - Pierre Sgamma
Ceramic sculpture, glazed and oxidized stoneware, covered with foam selected by Retour De Voyage
Dimensions for each : 50cm x 20cm x 17cm
For more information, contact Frédéric at +33 6 87 32 58 68
Pierre Sgamma's atypical universe is particularly eloquent with these two moss-clad characters. Like the Cambodian temples on which the vegetation has regained its rights, these two brothers with hollow bodies are inseparable. 
Impossible to remain indifferent to the creations of Pierre Sgamma. His sometimes enigmatic creations disturb, move, provoke and even shock. This artist has developed his own plastic language, a singular universe that unfolds in a great freedom of expression. All in poetry and sensitivity, the world of Pierre Sgamma shakes us, scratches us and swings us between tearing and appeasement. He transcends the established codes by juxtaposing the sublime and the grotesque, the candor and the perversity. He says, "In the most intense moments of production and creation, I don't work, I play. Each piece is a piece of me, loaded with my experience of love, violence, fears, lacks, desires. I make fun of myself, of this great comedy that is life." 
Retour De Voyage selected this sculpture where architecture blends with nature.
Both are sold together.
Data sheet
Type of product

Art - Sculpture

Gift Ideas

Artwork
No customer reviews for the moment.