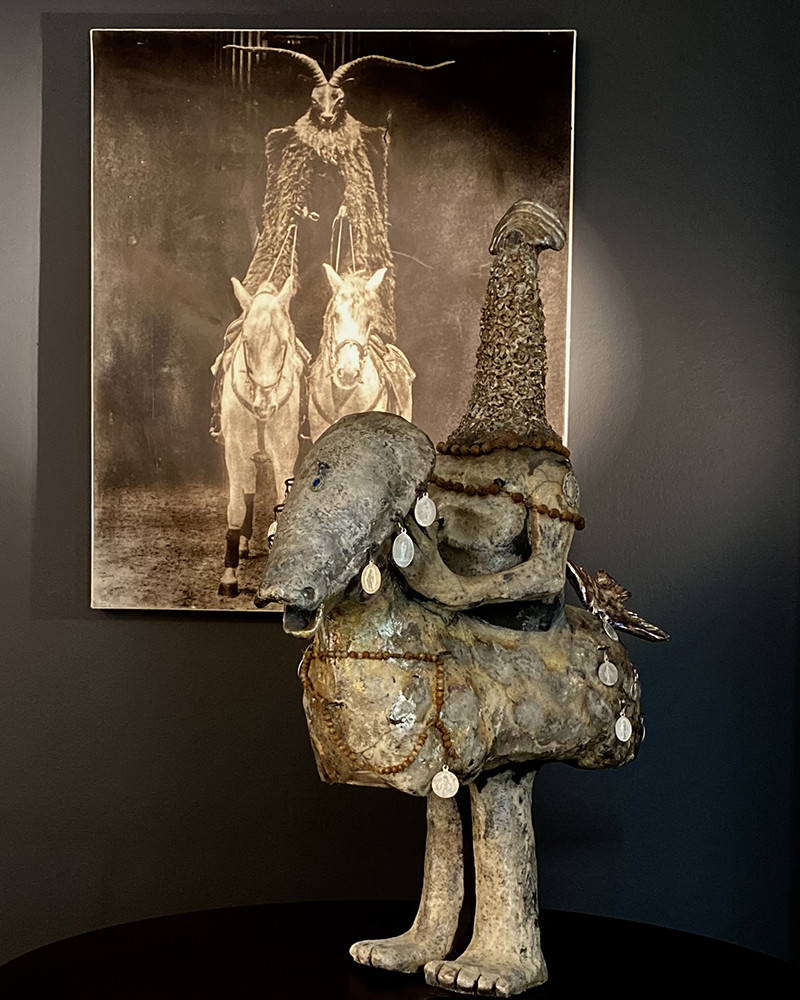  
Pierre Sgamma - Rider, Ex Voto
Rider, Ex Voto - Pierre Sgamma
Ceramic sculpture, glazed stoneware and iron oxide selected by Retour De Voyage
Height 50 cm x 20 cm x 30 cm
For further information, please contact Frédéric at +33 6 87 32 58 68
Le Cavalier Ex Voto by Pierre Sgamma takes us into a mystical and chivalrous universe. A former horseman, Pierre pays homage in this series presented by Retour De Voyage to the relationship between horse and rider, with the humour that characterises him. He also questions our relationship with the mystical by presenting this black virgin carried by this horse and rider, all adorned with gri medals that accompany the horse and this black virgin in their journey.
It is impossible to remain indifferent to the creations of Pierre Sgamma. His sometimes enigmatic creations disturb, move, provoke and even shock. This artist has developed his own plastic language, a singular universe that unfolds with great freedom of expression. The world of Pierre Sgamma, full of poetry and sensitivity, shakes us up, scratches us and moves us between tearing and appeasement. He transcends established codes by juxtaposing the sublime and the grotesque, candour and perversity. He says: "In the most intense moments of production and creation, I don't work, I play. Each piece is a piece of me, loaded with my experience of love, violence, fears, lacks, desires. I make fun of myself, of this great comedy that is life. 
Retour De Voyage loves the majesty of this sculpture which contributes to the magic and mystery. 
Data sheet
Type of product

Art - Sculpture

Gift Ideas

Artwork
No customer reviews for the moment.