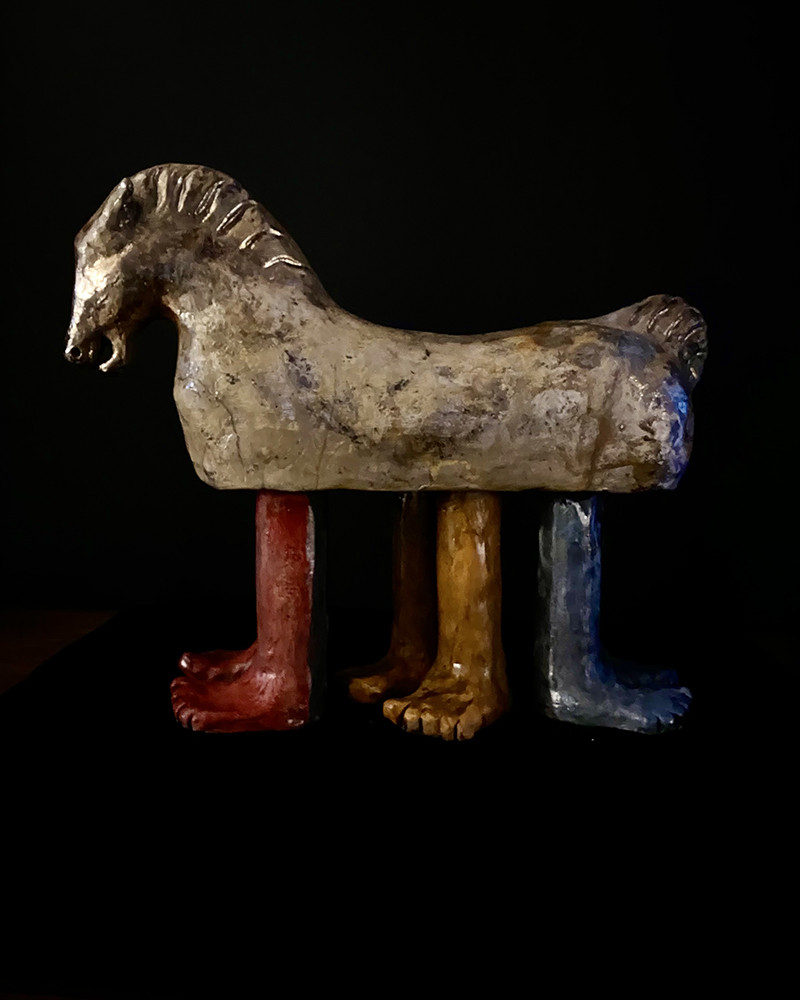  
Pierre Sgamma - Riders, 6 legs
The 6-legged Rider - Pierre Sgamma
Ceramic sculpture, glazed stoneware and iron oxide selected by Retour De Voyage
Height 50 cm x 20 cm x 30 cm
For more information, contact Frédéric at +33 6 87 32 58 68
Le Cavalier 6 jambes by Pierre Sgamma, translates the fusion of the rider with his horse and Pierre's attachment to the horse. Indeed, as a former rider, Pierre pays tribute in this series to the relationship between horse and rider, with the humour that characterises him. Who of the horse or the man makes the effort?... just return of things that the rider gives way to leave the place of honor to his faithful companion...
All in poetry and sensitivity, Pierre Sgamma's world shakes us up, scratches us and moves us between heartbreak and appeasement. He transcends the established codes by juxtaposing the sublime and the grotesque, candour and perversity. He says: "In the most intense moments of production and creation, I don't work, I play. Each piece is a piece of me, loaded with my experience of love, violence, fears, lacks, desires. I make fun of myself, of this great comedy that is life. 
Retour De Voyage loves this wink, which fits perfectly into this new exhibition about the marvellous and which accompanies Alfons Alt's revised images of Bartabas' show. 
Data sheet
Type of product

Art - Sculpture

Gift Ideas

Artwork
No customer reviews for the moment.