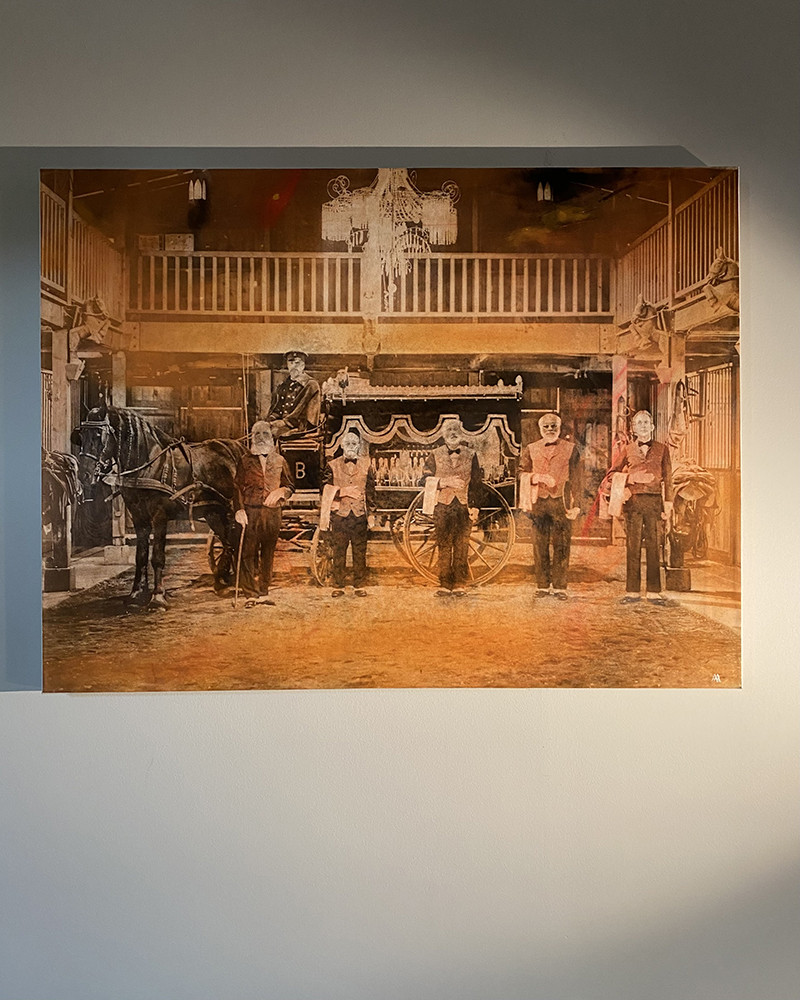  
Alfons Alt - Equestrian Cabaret
Equestrian Cabaret - Alfons Alt - 2021
Cadmium orange, Cyprus ochre, Ivory black, Scarlet red pigments - Hahnemühle Reinhadern paper
Format : 60x80 cm
For more information, contact Frédéric at +33 6 87 32 58 68
The painting Equestrian Cabaret looks like a photograph from another era, so much so that the costumes and postures seem out of step with our time. The charm of this painting lies in this discrepancy. These six men in their Sunday best pose and stare at us, the amazed spectators. In their expressions, it is up to us to read what we want... 
Alfons Alt accompanied the troupe of Bartabas, the founder of the equestrian theatre Zingaro, during their show "La cabaret de l'exil". The meeting of these two worlds plunges us into a dreamlike world populated by animals, nature and mythology. Alfons Alt walks on the borders of painting, photography and engraving by a process invented in the middle of the 19th century that he has updated and named "Altotype". By combining these processes, he takes us into a singular pigmented universe and gives us the opportunity to see unique creations. He says it himself: "It is exactly there that I situate myself between the reality of photography and the dream world of painting with the sensuality of the material.
Retour De Voyage loves this unsettling painting that only Alfons Alt has the recipe for! 
Data sheet
Type of product

Art - Photography
No customer reviews for the moment.