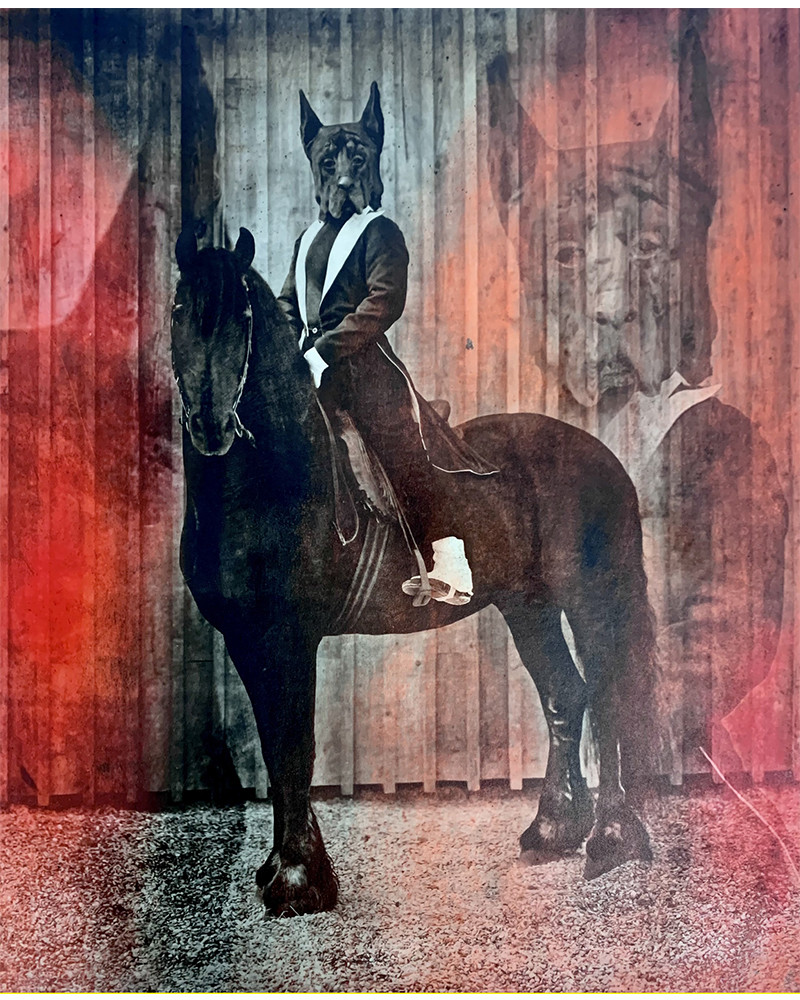  
Alfons Alt - Homo Canis
Homo Canis - Alfons Alt - 2021
Pigments: Wine black, Scarlet red, Ivory black - Fabriano paper
Dimensions: 50x60 cm
For more information, please contact Frédéric at +33 6 87 32 58 68
Please stop and have a look at this picture... will you be perplexed, curious, laughing? At first sight, one can only be amazed by the presence of this horse. He is one of the descendants of Zingaro, the Friesian stallion known for having given the name to Bartabas' equestrian theatre, which has taken part in all his shows and has become an emblem. Then we stop at this half-man, half-dog specimen: crowned by the proud appearance of his steed, he nevertheless has a clumsy air about him. And here a game of look between you and the work takes place: come on, have you never seen such a duo to display this stunned face? One wonders who is the most surprised ... 
Alfons Alt accompanied Bartabas, the founder of the equestrian theatre Zingaro, during his show "La cabaret de l'exil". The meeting of these two worlds plunges us into a dreamlike world of animals, nature and mythology. Alfons Alt walks on the borders of painting, photography and engraving by a process invented in the middle of the 19th century that he has named "Altotype". By combining these processes, he takes us into a singular pigmented universe and gives us the opportunity to see unique creations. He says it himself: "It is exactly there that I situate myself between the reality of photography and the dream world of painting with the sensuality of the material.
Retour De Voyage loves this whimsical, atypical, altotypical painting!
Data sheet
Type of product

Art - Photography
No customer reviews for the moment.