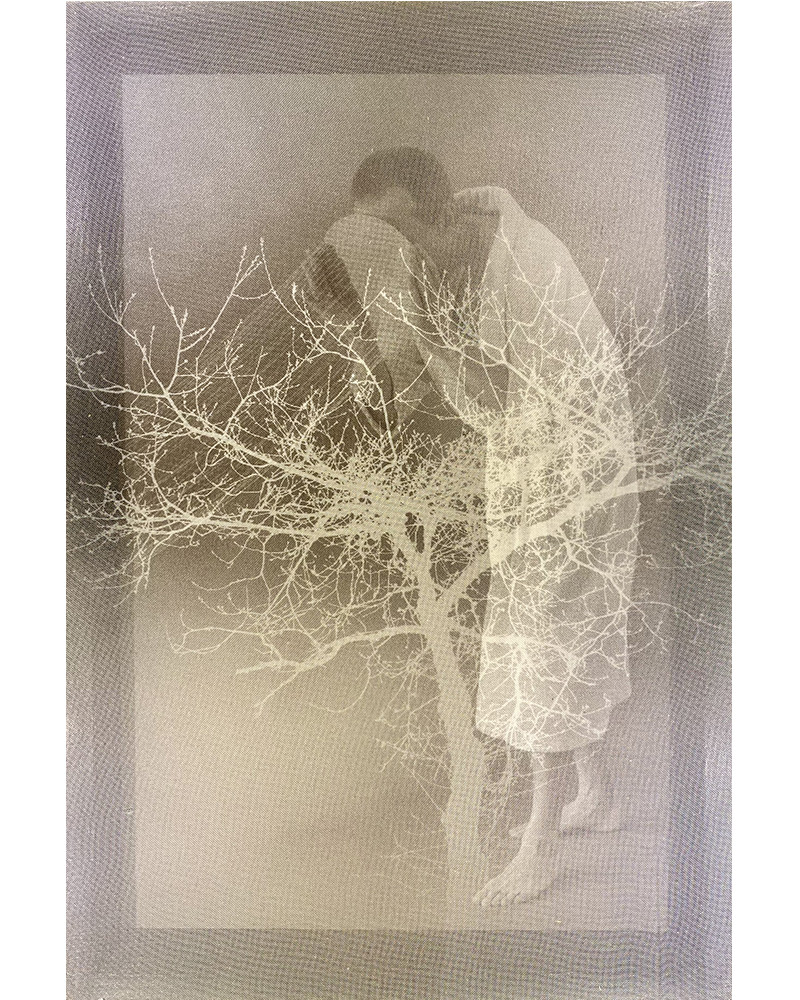  
Gabriela Morawetz - Closer to me then myself 2
Artwork by Gabriela Morawetz
Pigment print on veil and canvas
Dim: 20 x 30 x 4 cm
Pigment print on canvas and veil - Dim 20 cm x 30 cm x 4 cm
Trees are very often featured in Gabriela artwork's. About the man who appears in these photographie, we know nothing. There is no sign to suggest anything about his social life, his milieu, his job or his aspirations. The place is neutral, the period indeterminate. This is a sleeper above his bed and in his dreams. As to what he is dreaming about, all we get to know are isolated elements whose reasons for being there is left to our imagination : stones, trees, bits of string and the bed itself,which for some inexplicable reason fills up with transparent bubbles ...
Gabriela Morawetz a photographer ? Technically, yes, even if she prints her pictures on various supports (slate, canvas, glass, plexiglas, etc.) thanks to an silver emulsion or pigment printing. Her photographs are sometimes subjected to the techniques of the bend and then covered with a thin layer of wax. However, her art escapes classification. Her works are often a little fuzzy or a little murky, sometimes covered with a veil. The subject is not really determined and this imprecision gives all its place to the spectator who can feel like sucked into the work, obliged to free his imagination and his own inspiration. "… it takes us into a dreamlike world where the gaze splits and is lost in the successive layers of the overlays." "The imagination and desire of each person continue the work in their own way, the artist having offered only a starting point to the vision of each".
Data sheet
Type of product

Art - Photography

Gift Ideas

Artwork
No customer reviews for the moment.