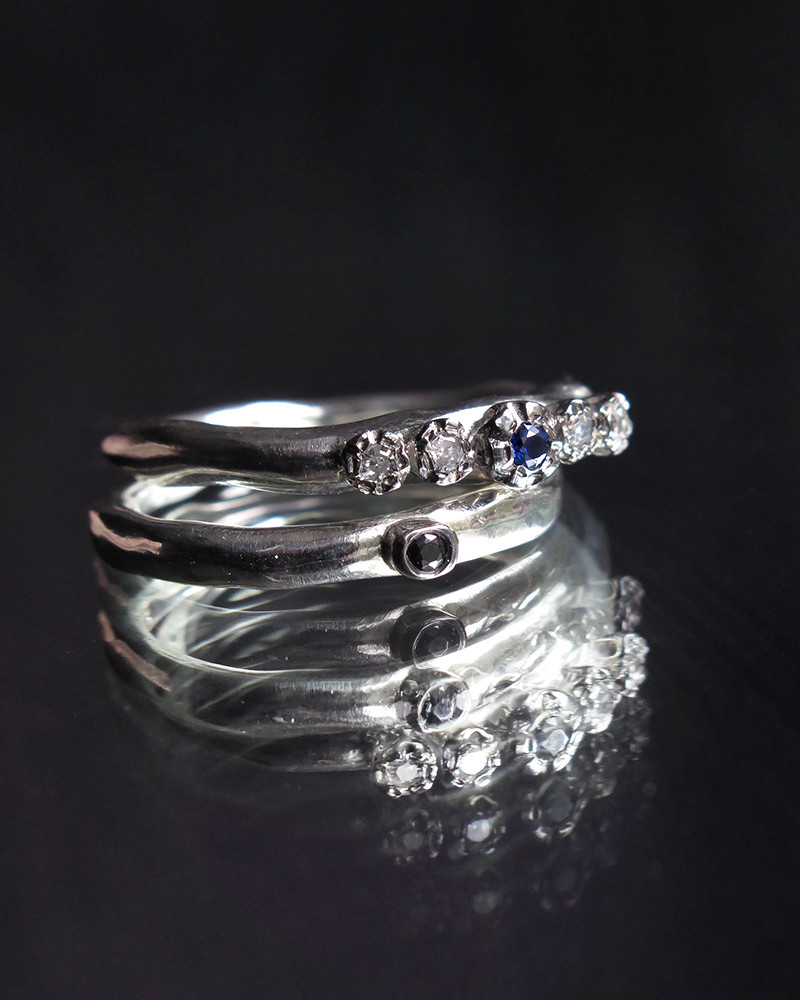  
Rosa Maria - Poppy and her diamonds
The Poppy ring was created in Lebanon by Rosa Maria. The sophisticated shape of this hammered ring is enhanced by a stone delicately set, choose between rubis, blue sapphire and black diamond, surrounded with 4 icy grey or rosecut diamonds.
Available in sizes 53, 54, 55, these rings can be ordered in all sizes, Allow a delay of about 4 weeks.
SPECIAL ORDER : SIZE 60
925 silver ring, with the stones of your choice: rubis, blue sapphire or black diamond, surrounded with 4 icy grey or rosecut diamonds.
Available in Sizes 53, 54 or 55. If you want another size, call Frédéric at 06 87 32 58 68.
The very simple shape of this fine hammered ring is brightened by a stone delicately set, surrounded or not with diamonds that then makes it even more chic. This designer, present all over the world, is distributed only in a very specialized way and we are happy to propose you this meeting with her...Under the name of Rosa Maria, a name inherited from her Argentinean mother, Rosy Abourous has been creating and producing for years a line of jewellery that is now worldwide known.
How could we say ? one of the favorite Rosa Maria rings of Retour De Voyage ! ... and yet, the choice is strictly impossible within the creations of Rosy who probably must never sleep... As for her inspiration, it's just no limit ! Yes, We are fans, we completely fall for each new ring ... they are original (it is banal to say that), when we see them, we want them, we can no longer do without them... but here, maybe we are not totally objective (passion...) then here is our favorite recipe: … if tomorrow morning, you think about it when you wake up, this ring is for you!
Data sheet
Type of product

Jewellery

Type of product

Jewels - Rings

Gift Ideas

For Lovers

Gift Ideas

Magnificent Jewel for Her

Gift Ideas

A rare treat
No customer reviews for the moment.