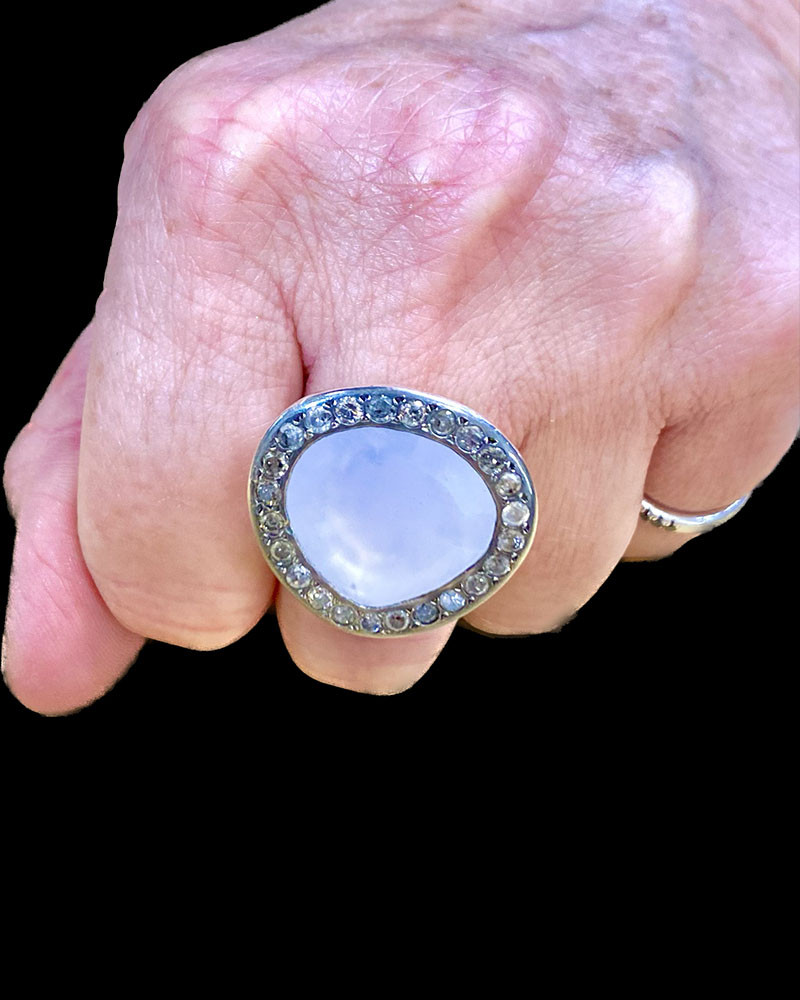  
Matt cloudy quartz and diamond ring
A splendid ring from Rosa Maria's new collection, featuring for the first time a Cloudy Quartz in a magnificent Moonstone colour. This fascinating stone is surrounded by a row of Icy Grey diamonds.
Available for Christmas, order before 15 October in the size that suits you best.
A splendid ring combining the dullness of glacier-coloured quartz and the sparkle of diamonds.
This beautifully cut faceted quartz is around 2 cm wide. Rosa Maria chose to surround it with 24 large diamonds, whose brilliance is enhanced by the black oxidised colour of the setting. The sterling silver setting is also very shiny. This ring will be available for Christmas, with shipment in early December if ordered before mid-October.
It's one of Retour De Voyage's favourite Rosa Maria rings... and yet it's impossible to choose between the creations of Rosa Maria, who probably never sleeps... As for her inspiration, it's just no limit! So we're fans, we fall head over heels for each new ring ... they're original (it's a trite thing to say), when we see them we want them, we can't live without them ... but maybe we're not totally objective (passion ...) so here's our favourite recipe: ... if you wake up tomorrow morning still thinking about it, it's because this ring is for you!
Data sheet
Type of product

Jewels - Rings

Gift Ideas

A rare treat
No customer reviews for the moment.