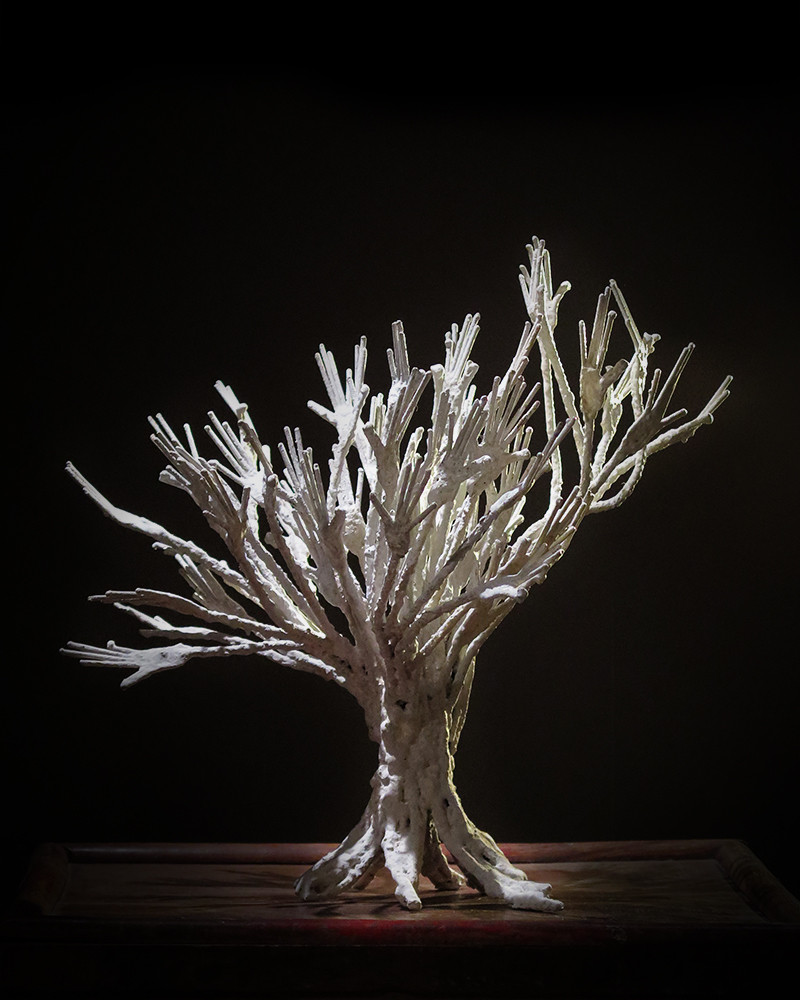  
Ndary Lo - Arbre des origines 3
Sculpture of the artist Ndary Lo, made of reinforced bars, from the series Arbre des Origines, formed by hands that rise towards the sky.
"A tree is made of an interlacing of human bodies, arms to the sky"
Height: 38 cm
Tree of the orignes - Height 38 cm
Ndary Lo is an internationally renowned artist, one of the most active African artists in the development of installations. Ndary Lo was sensitive to nature, to its progressive destruction through human action and inaction. Highly mobilized by the project launched by the African Union of the "green wall" intended to counteract the desertification of the Sahel, it produces in 2008 a masterful installation, forest of a hundred trees degranded in reinforcement bars, of which not one is the same to the other. He thus inaugurated a series of trees of different dimensions, with abundant forms and branches ending with hands as signs of friendship, if not calls for help, implorations or affirmation of combat. The sculptor Ndary Lo had for preferred materials all the materials of recovery - to give them a second life - and in particular, the reinforcement bars, alone or covered with various patinas, especially in the works of the last years. On the occasion of the exhibition "J'aime les arbres", Retour De Voyage presents a series of small sculptures (40 to 60 cm), entitled "arbres des origines" which symbolizes the power of life. It is this message that Ndary Lo transmits to us through his human trees, which draw their strength from their semi-apparent roots and rise towards the sky with endings in the form of hands as to implore a greater respect for nature...
Data sheet
Type of product

Art - Sculpture

Gift Ideas

Artwork

Gift Ideas

A rare treat

Artists

Ndary Lo
No customer reviews for the moment.