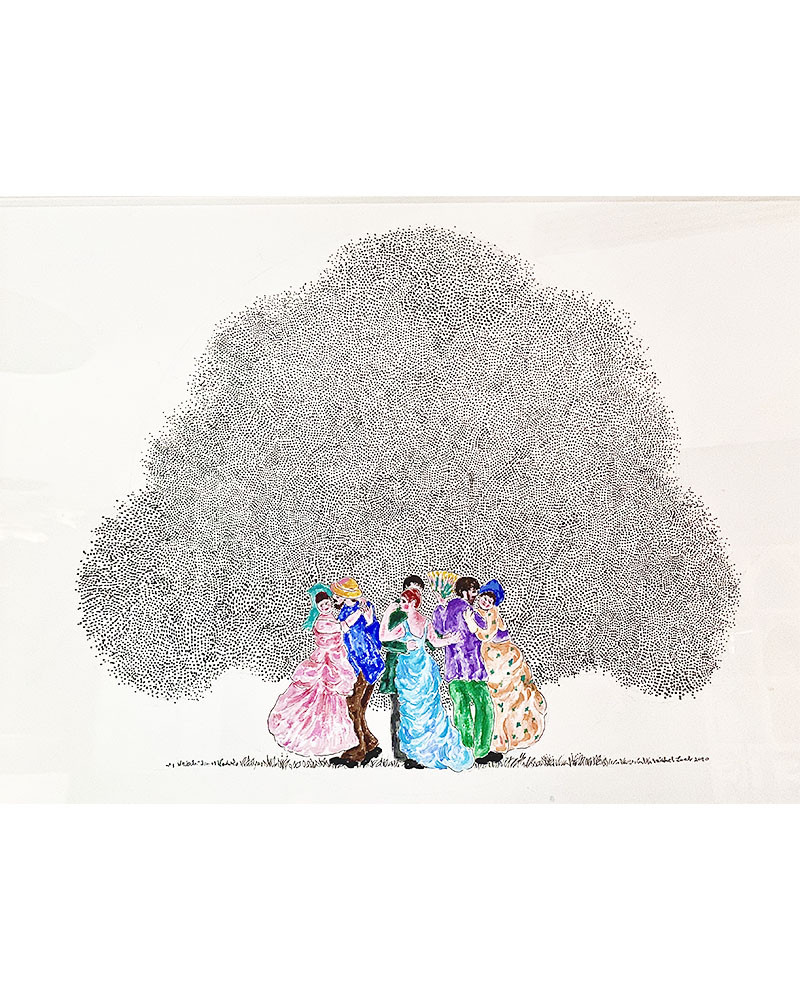  
Michel Loeb - The Ball
Work by Michel Loeb
"The Ball, after Renoir"
Size of the work : 54 x 40 cm, with frame 70 x 56
On the occasion of the exhibition "Michel Loeb and his Masquerade Ball", (July - August 2020, the year of all masks...)
Michel Leeb wrote a nice poem for Michel Loeb to embellish the invitation card :
Sur la terre bleue
Sur la terre bleue comme une orange,
Un masque rouge vert blanc noir,
Sert de visa
D'un visage à l'autre.
D'où viens-tu ?
Où vas-tu ?
Qui es-tu ?
Mascarille 
Ou Mascalzone?
Je suis Michel Loeb !
Peintre démasqué,
Au pinceau bergamasque.
Moi, je connais son âme,
C'est un paysage choisi
Et si joli,
Tout chante et danse en lui
Comme la plume légère.
Laisser passer 
L'imaginaire !
Hauts les coeurs et bas les masques
Michel Leeb (avec le masque on peut confondre)
For this exhibition, Michel Loeb has created 23 masks, all equally colorful and cheerful, full of small points, signature of Michel Loeb, as well as several paintings.
The Retour de Voyage Gallery presents all year long the works of Michel Loeb which are then visible on RDV
+33 6 87 32 58 68 
Data sheet
Type of product

Art - Paintings and Drawings

Gift Ideas

Artwork
No customer reviews for the moment.