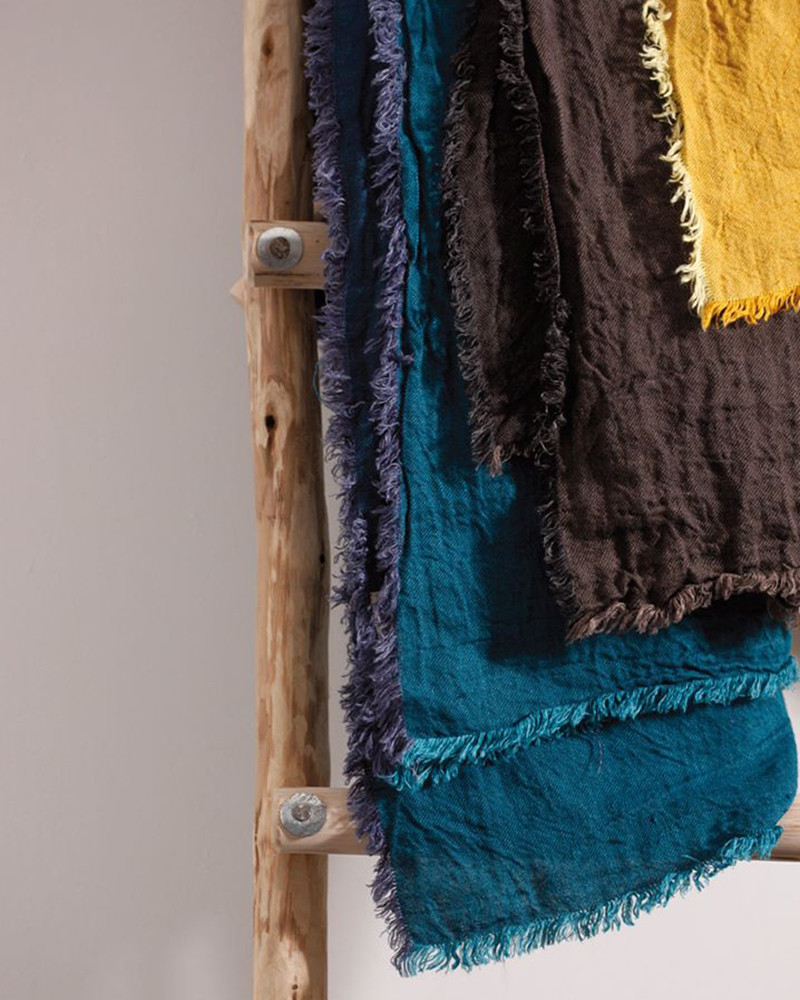  
Maison de Vacances - Linen Throw, cushions, duvets
About thirty colors for this 100% fabric in scrubbed washed linen with fringes, double weft, so double colors on both sides.
It is declined:
in plaids (140 x 250 cm) for your sofas or beds jetties, we also love them for the beach or as a travel sail
in cushions (ask for all available dimensions)
in soft cocoon duvets (3 sizes available) 
or even curtains...
Call us at 06 87 32 58 68
This 100% linen plaid is the perfect size for sofas and meridians, to be thrown on a bed, taken to the beach, and ultimate luxury, worn around the neck and shoulders on all your plane trips and for a chilly evening. Its double weft allows to have two double-sided colors, one pepsi and the other softer. About colors... the only difficulty is to choose ...
La Maison Sur La Sorgue, boutique hotel and guest house, uses all the creations of Maison de Vacances: bed linen, boutis, plaids, cocoon duvet, tablecloths, towels, tea towels, curtains, sofas, banquettes, chauffeuses and meridians... the materials are fabulous, with a lot of linen, manufactured mainly in France and the colors adapt to the atmosphere of each of the suites and rooms of La Maison.
The whole set is on sale in the concept store Retour De Voyage, either on stock or on order. Our decorators are at your disposal to help you define the perfect compositions, to complete with the luminaires, the decorative objects brought back from the many trips, the pieces of the art of the table... and of course the works of art of our artists.
Do not hesitate to consult us on everything we have not yet been able to put on this site! 
Contact: lamaisonsurlasorgue@wanadoo.fr - +33 6 87 32 58 68
Data sheet
Type of product

Deco - Throws and Cushions

Gift Ideas

Deco
No customer reviews for the moment.