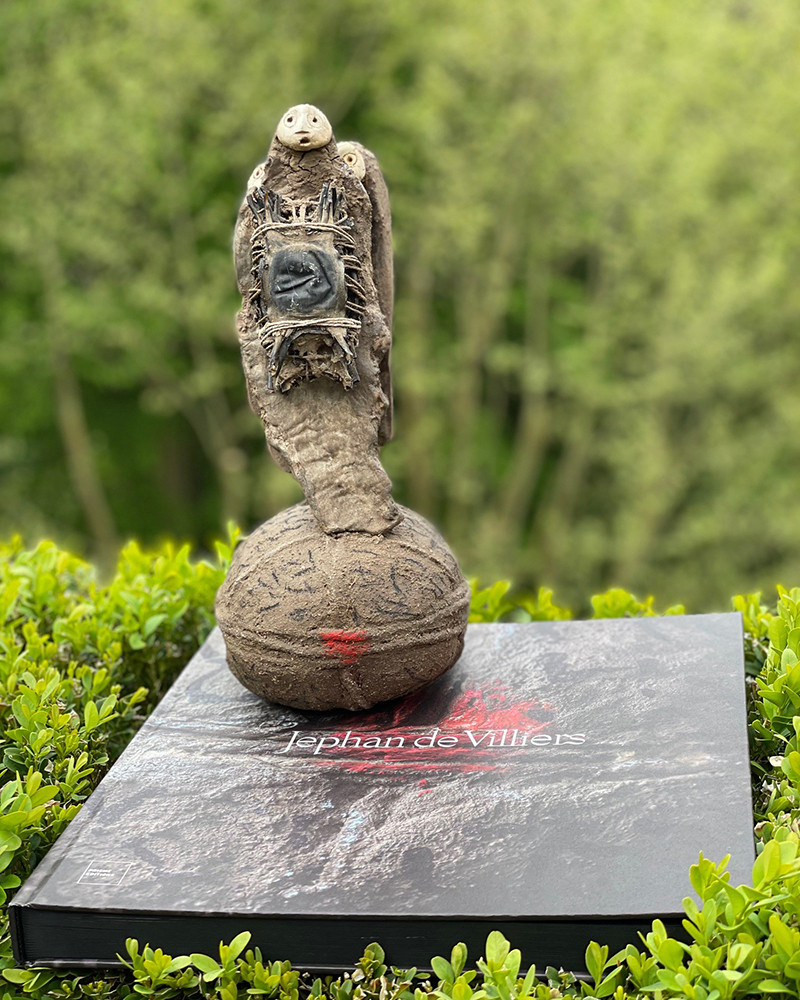  
Jephan de Villiers - Monograph
The book
Jephan de Villiers invites us to free ourselves from the shackles of our alienating daily life to immerse ourselves in an imaginary civilization. The objective was to go with him to meet a vanished world, where nature and culture are still intimately linked, a world where man would live in harmony with all the elements.
Beautiful book with a lot of pics of his works of art
Jephan de Villiers, an avant-garde ecologist, takes us out of our daily life with his creations, towards «an imaginary civilization that seems to be of a past where man and nature were one». Each of his sculptures is a poignant testimony to the lost harmony between man and nature. They all come from gleaning fragments of nature, roots, twigs, wood, bark, shells of horseshoe crabs, feathers, bugs, soil and mud… Jephan de Villiers likes to say, "I don't invent anything, I remember."
These small creatures with frightened eyes, sometimes draped in feathers (they are then angels) take place in boxes, on paintings, or are arranged in processions accompanied by wagons. They are named after the people of Arbonie. In the work of Jephan de Villiers we also encounter the "fragments of memory", a kind of brain wrapped in paper covered with invented writing – rediscovered – by the artist, bound and containing a secret object. There are also the Bears that evoke the wild boar defenders of the nature in the film Princess Mononoké, or the Bolis, fetishes of the Bambaras (Mali). 
Data sheet
Type of product

Art Books

Gift Ideas

For curious people

Gift Ideas

Artwork
No customer reviews for the moment.