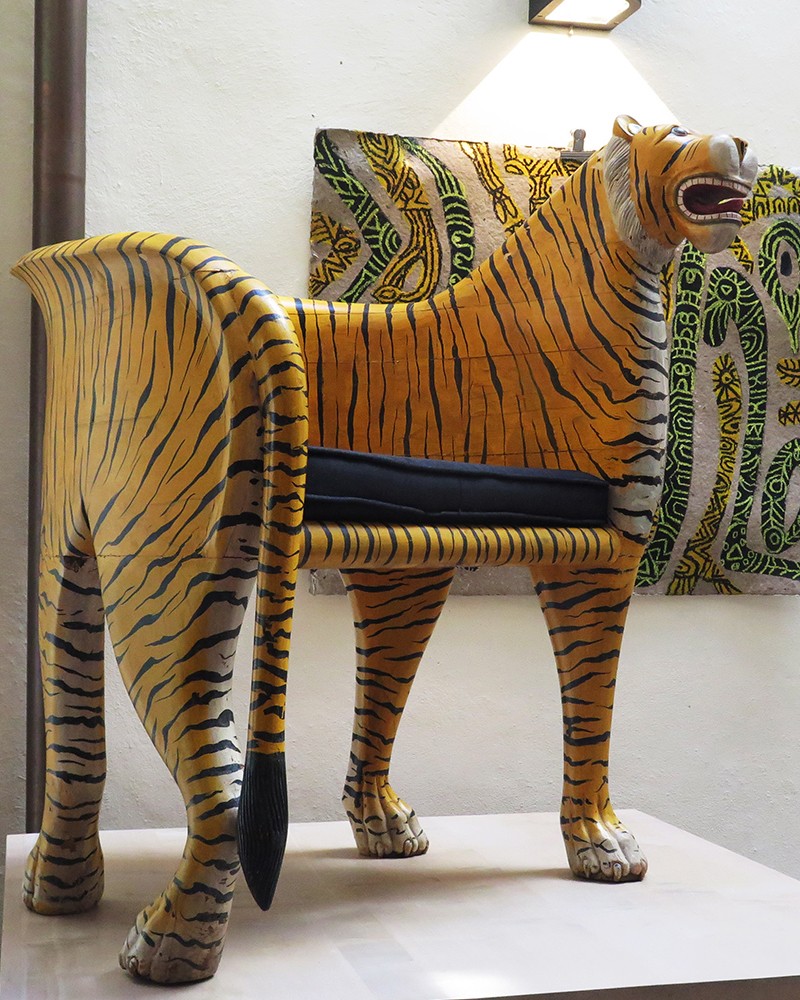  
India - Tiger armchair
Hand-painted wooden armchair, from Rajasthan. Travel atmosphere guaranteed, bringing a touch of the comfort and luxury found in colonial-style homes. We are proud and honoured to present this piece of art from our artisan friend in Rajasthan.
FOR DELIVERY ASK FOR QUOTATION
We discovered these animal-shaped armchairs in Rajasthan, India, by visiting a Maharaja's palace. They stood there in memory of the spectacular big game huntings, royal activity and favorite sport of the Maharajas. These extravagant and rich people lived in palaces worthy of Miles and One nights defying the imagination by so many pomps and magnificence. When they were hunting tigers, they were riding  elephants.
The tiger chairs are reissues, crafted by an art maker. Their warm and vibrant colors truly recall their origin. They look fabulous, absolutely original in a contemporary interior.
The hand-painted wooden structure is quite heavy to move and allows a perfect seat on a black cushion.
Two versions for this chair: right hand head or left hand head.
Height (from the tiger's foot cushion at the end of the ear) : 
Width: 
Depth:
Data sheet
Type of product

Deco - Sofas & Meridians

Type of product

Craftmanship

Type of product

Craftmanship India

Gift Ideas

For Travellers
No customer reviews for the moment.