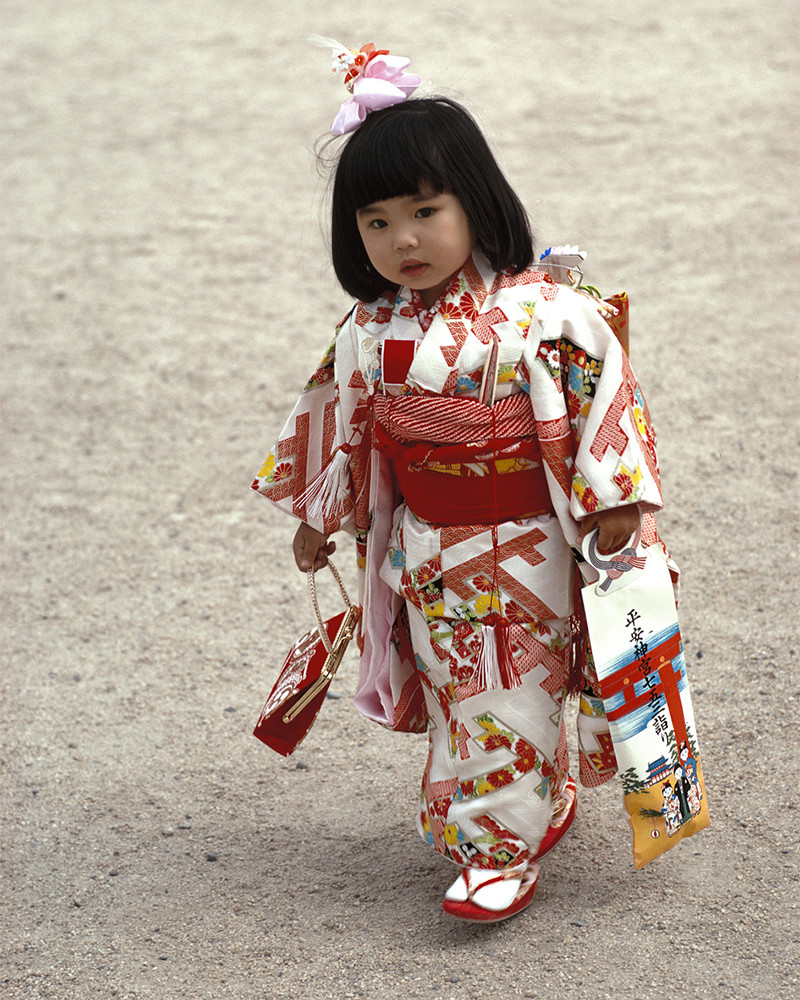  
Hans Silvester - Japan, photo 09
Photographs by Hans Silvester who travelled through Japan for a year in 1968.
Photographs signed and numbered from 1 to 10 by the artist.
3 formats available : 40x60 cm | 60x90 cm | 100x150 cm
For more information, contact Frédéric at +33 6 87 32 58 68
How can you not fall in love with this little girl? Adorable, she has just put on the first kimono of her life to go to the Meiji Shrine in Tokyo. The main path to the shrine is opened by a 12-metre-high cedar torii, making it the highest in Japan.  
Hans Silvester's discovery of the Empire of the Rising Sun took him through several stages. From a very young age, the photographer was already interested in Zen Buddhism and Japanese culture. Then, it was the images brought back in 1951 by the Swiss journalist Werner Bischof that struck him. The desire to go there was slowly growing inside him and destiny held out its arms to him: in 1968, a supermarket chain offered him the project of taking photos in Japan to put them in chocolate bars to build customer loyalty. Hans Silvester was asked to produce a "chocolate" book on the theme of Japan. He stayed there for a year and was able to experience the country intensively. Outside the cities, the photographer likes to say that he was an object of curiosity. Not being able to speak the language, he carried around little papers written in Japanese in his pockets, on which were written, among other things, "I am as clean as a Japanese" when negotiating room and board. In one year, Hans Silvester captured the children of Tokyo in a very modern and graphic setting, as well as the Zen temples of Ryoanji and the helmeted demonstrations of Japanese students in 1968. 
In traditional clothes, this little Japanese girl keeps the Japanese tradition alive. She is so cute that she softens hearts, Retour De Voyage had to share this photograph by Hans Silvester.
Data sheet
Type of product

Art - Photography

Gift Ideas

For curious people

Gift Ideas

For Travellers

Gift Ideas

Artwork
No customer reviews for the moment.