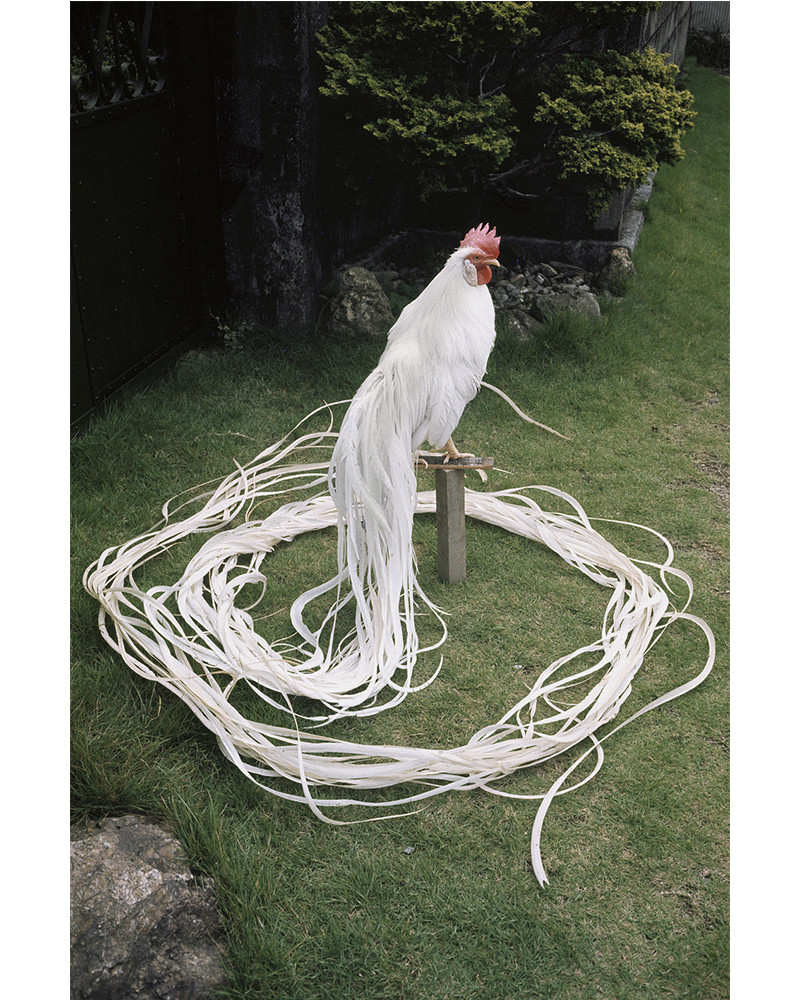  
Hans Silvester - Japan, photo 03
Photographs by Hans Silvester who travelled through Japan for a year in 1968.
Photographs signed and numbered from 1 to 10 by the artist.
3 formats available : 40x60 cm | 60x90 cm | 100x150 cm
For more information, contact Frédéric at +33 6 87 32 58 68
The tail feathers of the Anagadori rooster can grow up to ten metres long at a rate of one metre per year. This particular animal only appears on the occasion of festivals in the temple gardens. Apart from these moments of "glory", the roosters are confined to huts to restrict any movement that might damage their carefully curled tails. 
Several stages led Hans Silvester to discover the Empire of the Rising Sun. From a very young age, the photographer was interested in Zen Buddhism and Japanese culture. Then, it was the images brought back in 1951 by the Swiss journalist Werner Bischof that struck him. The desire to go there slowly grew within him, and destiny held out its arms to him: in 1968, a supermarket chain offered him the project of taking photos in Japan to put in chocolate bars to build customer loyalty. Hans Silvester was asked to produce a "chocolate" book on the theme of Japan. He stayed there for a year and was able to experience the country intensively. Outside the cities, the photographer likes to say that he was an object of curiosity. Not being able to speak the language, he carried around little papers written in Japanese in his pockets, on which were written, among other things, "I am as clean as a Japanese" when negotiating room and board. In one year, Hans Silvester was able to capture the children of Tokyo in a very modern and graphic setting, as well as the Zen temples of Ryoanji and the helmeted demonstrations of Japanese students in 1968. 
Retour De Voyage is captivated by this exceptional animal, the graphics of this photo and the white of the rooster which contrasts with the background. 
Data sheet
Type of product

Art - Photography

Gift Ideas

For curious people

Gift Ideas

For Travellers

Gift Ideas

Artwork
No customer reviews for the moment.