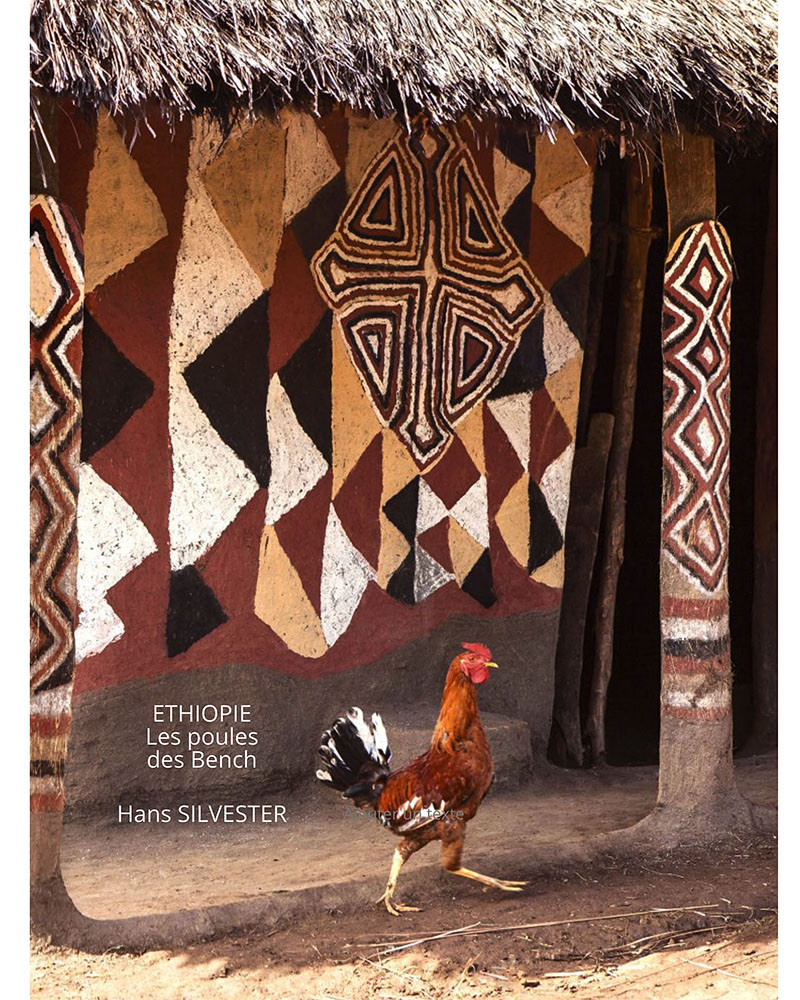  
Hans Silvester - The chickens of the bench, book
Artist's album book
Presented in a box and signed by Hans Silvester. Format 30x30 cm
59 photos printed on Fuji Crystal Archive photo paper. Thick cardboard pages.
Photographs and texts by Hans Silvester. Copyright 2022. Le Parrotier Edition. 
"The Bench's Chickens" is an album book entirely designed by the great photojournalist Hans Silvester, from which he has carefully selected each shot.
Hans Silvester's meeting with the Bench was almost by chance. A beautiful chance, one might say! Indeed, the photographer was on his way to the Omo Valley in Ethiopia when he spotted some painted houses. Intrigued and curious, Hans Silvester discovered a people isolated by almost impassable dirt roads, living modestly from culture.  Fervent ecologic activist, Hans Silvester was subjugated by their way of life, in symbiosis with the animals. Moreover, their living environment is astonishing: the houses are painted with the pigments of this volcanic ground, with fingers. In the rainy season, everything is erased and it is necessary to start again, leaving creativity at its peak. The animals are totally integrated into the life of the people and create a very special atmosphere. They embody both freedom and harmony. Hans Silvester even says: "For me, the Bench houses are the most beautiful chicken coops in the world. »
Through this album book, you will be immersed in the daily life of a fascinating people, where the hens parade in an incredible setting, where their plumage responds to the murals of an unbelievable freshness. The photos can be printed individually in limited edition, numbered and signed by the artist in different formats. Contact Frédéric Dol : +33 6 87 32 58 68 
Data sheet
Type of product

Art Books

Gift Ideas

Beautiful Books
No customer reviews for the moment.