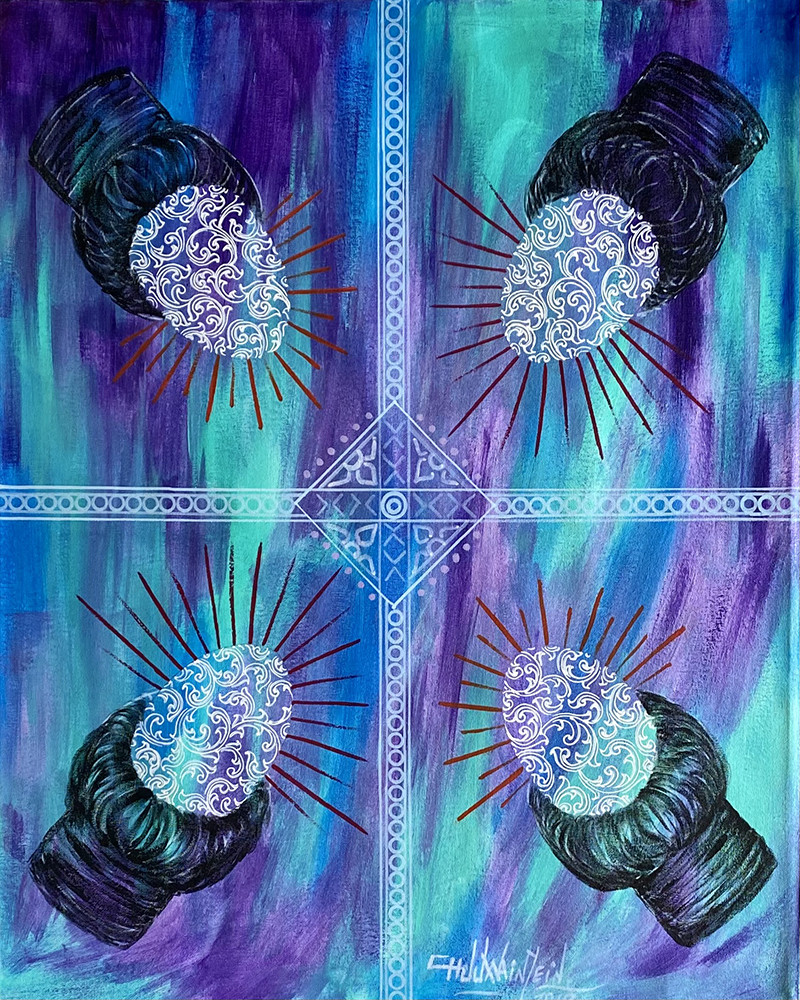  
Chuu Wai Nyein - Burmese New Yorkers
Acrylic on fabric
artwork made in part with traditional htameins and longyis fabrics as canvases
122 x 91 cm
Chuu Wai Nyein is a free and committed woman who has devoted her work to the situation of her peers in Burma. As Such, she has become a leading figure of the young Burmese art scene.
If we say "New York is not just a city but a world", then this is about a small different world inside this world. During my move to New York , I have worked on 'Burmese New Yorkers' referencing the burmese community in NY through my keen eyes on contradiction in the city which is full of diversity, energy and inspiration. For quite a long time, I kept this painting without showing it to anyone. Now, its time has come to be seen. 
For chuu Wai Nyein, Burmese women are prisoners of the tradition and are systematically put behind. She works to revert this order. This is why, in the core of the paintings, she represents determined women with powerful position on traditional longyi, which are clothes traditionally designed for men. She often provides them with emblematic signs of masculine gods, which bring them power. The aim is to demonstrate that women are able to take up the role that they deserve in the society if they get rid of the patriarchy by seizing, if necessary, what is reserved for men.
Chuu Wai Nyein likes women who are attached to their culture but who draw their own path, the ones who dare, the ones who choose freedom. Her work is originated from a primary ambivalence. On one side, a feminist and anti-patriarcal claim pushes her to show a female model of power and liberation. On the other one, she proposes a fresh perspective on the history and the beauty of her culture which she supports and respects.
Data sheet
Type of product

Art - Paintings and Drawings

Gift Ideas

Artwork
No customer reviews for the moment.