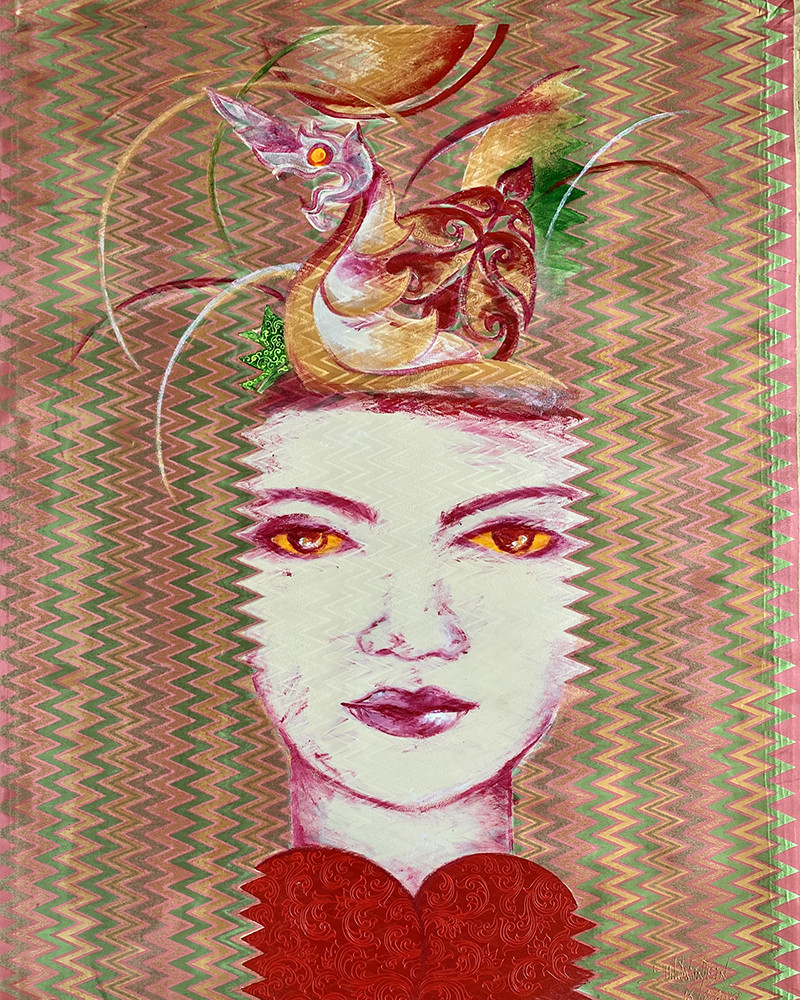  
Chuu Wai Nyein - Dragon bearer of light
Acrylic on fabric
artwork made in part with traditional htameins and longyis fabrics as canvases
122 x 91 cm
Chuu Wai Nyein is a free and committed woman who has devoted her work to the situation of her peers in Burma. As Such, she has become a leading figure of the young Burmese art scene.
God is a woman
"From all the biblical and Buddhist myths and bedtime stories that I've heard, many characters are dominated by men in higher positions. Women are just supporting characters to make the men more luminous.
These stories are shaping and raised children with the evolving mind.
Are we led to truly believe that from these myths and bedtime stories, when split between men and women in society, men are the more powerful characters with outstanding traits whilst women are more delicate and homely? 
Can this be true for centuries after many centuries?  And the answer would be : NO ! Therefore, this artwork depicted a new story of a woman god surrounded by a powerful character of Burmese dragon which is always guarding the male leader in the typical myth stories."
Chuu Wai Nyein likes women who are attached to their culture but who draw their own path, the ones who dare, the ones who choose freedom. Her work is originated from a primary ambivalence. On one side, a feminist and anti-patriarcal claim pushes her to show a female model of power and liberation. On the other one, she proposes a fresh perspective on the history and the beauty of her culture which she supports and respects.
Data sheet
Type of product

Art - Paintings and Drawings

Gift Ideas

Artwork
No customer reviews for the moment.