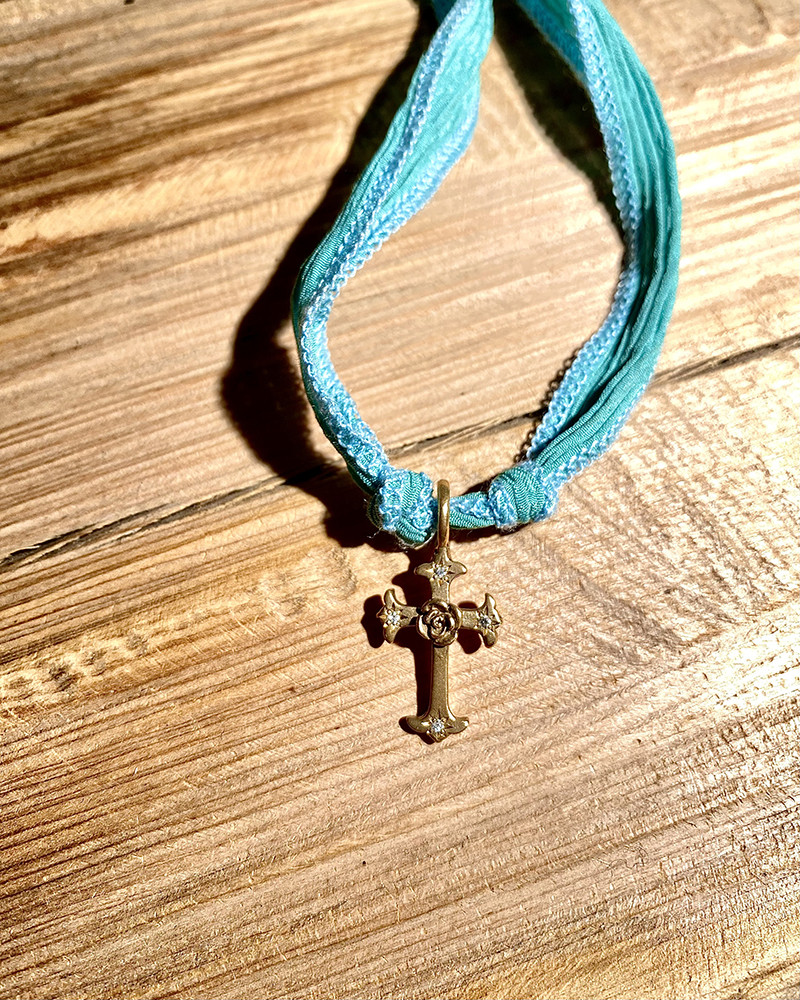  
Catherine Michiels - Charm Mariel Cross
Mariel Cross Charm
Bronze with 4 white diamonds 
Silk bracelet available in several colours
Selected by Retour De Voyage 
Original creation by Catherine Michiels 
Free delivery in France (upon validation of your address)
In Tuscany, Catherine Michiels entered a small chapel and discovered an ancient cross, which she immediately drew in her notebook. In the centre of the cross, at the junction between the horizontal and the vertical, is a rose without thorns, symbolising the Virgin Mary. This cross represents the union between heaven and earth, and the four diamonds on each branch symbolise the stars.
A charm is a magical little jewel because it is above all a good luck charm. Each one carries a message that is addressed to oneself or to the person to whom one offers this jewel. The charms created by Catherine Michiels, with their perfect aesthetics, are imbued with a deep spirituality and filled with a great energy dispensed by Catherine who is also a Reiki Master. Each piece of jewellery has a story and a meaning. They are made from recycled precious metals and often have one or more precious stones. It is up to you to choose your first charm and then to combine it with others to form a unique piece of jewellery, in your image, carrying your history and your values.
You can choose the colour of the silk cord on which to tie your charm, or wear it as a medallion on a chain or a necklace from the designer. Retour De Voyage is a fan of this charm! 
Data sheet
Type of product

Jewellery

Type of product

Jewels - Charms

Gift Ideas

Porte Bonheur Charm

Gift Ideas

For Lovers

Gift Ideas

Mothers Day

Gift Ideas

A jewel for her or for him
No customer reviews for the moment.