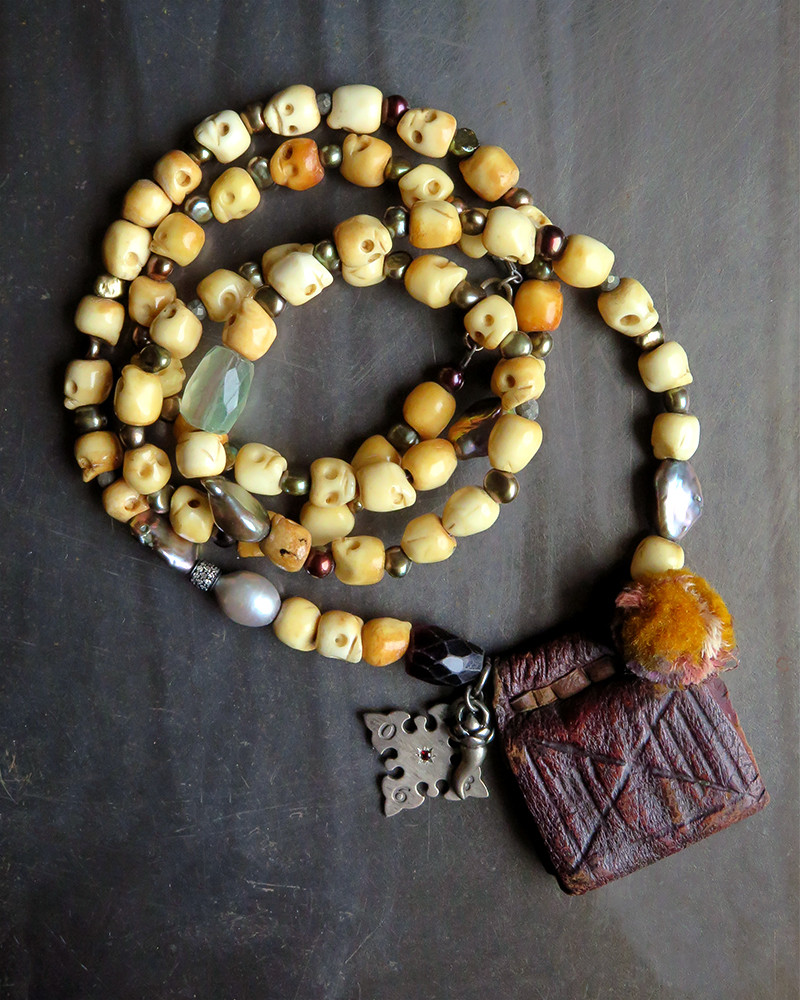  
Catherine Michiels - Unique ethnic Necklace
Unique ethnic necklace, with an African leather amulet.
Original creation by Catherine Michiels. 
Subscribe to our Newsletter, we invite you to share a drink with her and discover her latest creations when this globe trotter stops at La Maison Sur La Sorgue, once a year ...
FREE DELIVERY TO FRANCE
This long necklace ( 83 cm ) is composed of bone beads carved in vanities, natural beads, a silver cylinder set with diamonds and 2 silver charms. Carrying sense and energy, this necklace is extremely powerful and original. We suggest you wear it with the long Padre Cross necklace for a successful harmony of colors, either on shirts (both gentlemen and ladies) and light dresses with fuzzy and colorful fabrics of the summer, or with a strict outfit, like a little black woolen dress. Original creations by Catherine Michiels, selected by Retour De Voyage for you.
When we met Catherine and her husband David during their stay at La Maison Sur la Sorgue, we were immediately seduced by her energy, charm and open-mindedness... and her jewels. By meeting this "fashionable" woman, we were immediately attracted by her way of dressing and by the bracelets, necklaces and jewelry that gave her a "bohemian chic" style. Very quickly the relationship became friendly and we followed with attention the presentation that Catherine made us of the jewels that she wore on her... These jewels that fascinated us turned out to be his own creations. We couldn't do without them anymore... and Catherine left without her jewels, we kept them so that we could make our clients discover them.
Data sheet
Type of product

Jewellery

Type of product

Jewels - Necklaces and Pendants

Gift Ideas

Porte Bonheur Charm

Gift Ideas

Mothers Day

Gift Ideas

Magnificent Jewel for Her
No customer reviews for the moment.