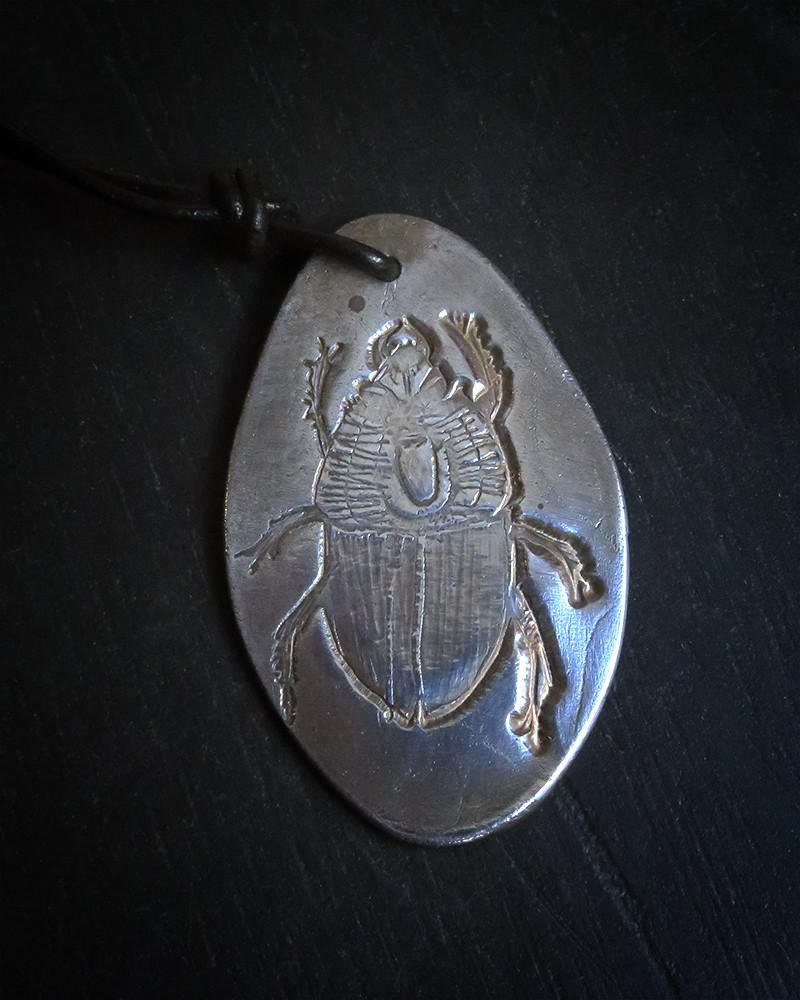  
Catherine Michiels - Beetle Pendant
Hammered silver medals engraved with a scarab, one in matt silver, the other enamelled. 
Created by Catherine Michiels
DELIVERY AND CUSTOMS DUTIES OFFERED IN FRANCE
Emblem of royal power, or mere lucky charm, the beetle was famished to the ancient Egyptians. During the mummification, he even ended up taking the place of the heart of the deceased. To grasp the meaning of this strange belief, it may be enough to look closely at the animal. And to discover his head, in the form of a radiating half-disk, like a sunrise, evoking the eternal restart.
A symbol of rebirth, this beautiful scarab with delicate lines was designed by Catherine Michiels and will occupy a prominent place on your chest. Choose it in matt silver or enamelled silver.
When we met Catherine and her husband David during their stay at La Maison Sur la Sorgue, we were immediately seduced by her energy, charm and open-mindedness... and her jewels. By meeting this "fashionable" woman, we were immediately attracted by her way of dressing and by the bracelets, necklaces and jewelry that gave her a "bohemian chic" style. Very quickly the relationship became friendly and we followed with attention the presentation that Catherine made us of the jewels that she wore on her... These jewels that fascinated us turned out to be his own creations. We couldn't do without them anymore... and Catherine left without her jewels, we kept them so that we could make our clients discover them.
Data sheet
Type of product

Jewellery

Type of product

Jewels - Necklaces and Pendants

Gift Ideas

Porte Bonheur Charm

Gift Ideas

Mothers Day

Gift Ideas

A jewel for her or for him
No customer reviews for the moment.