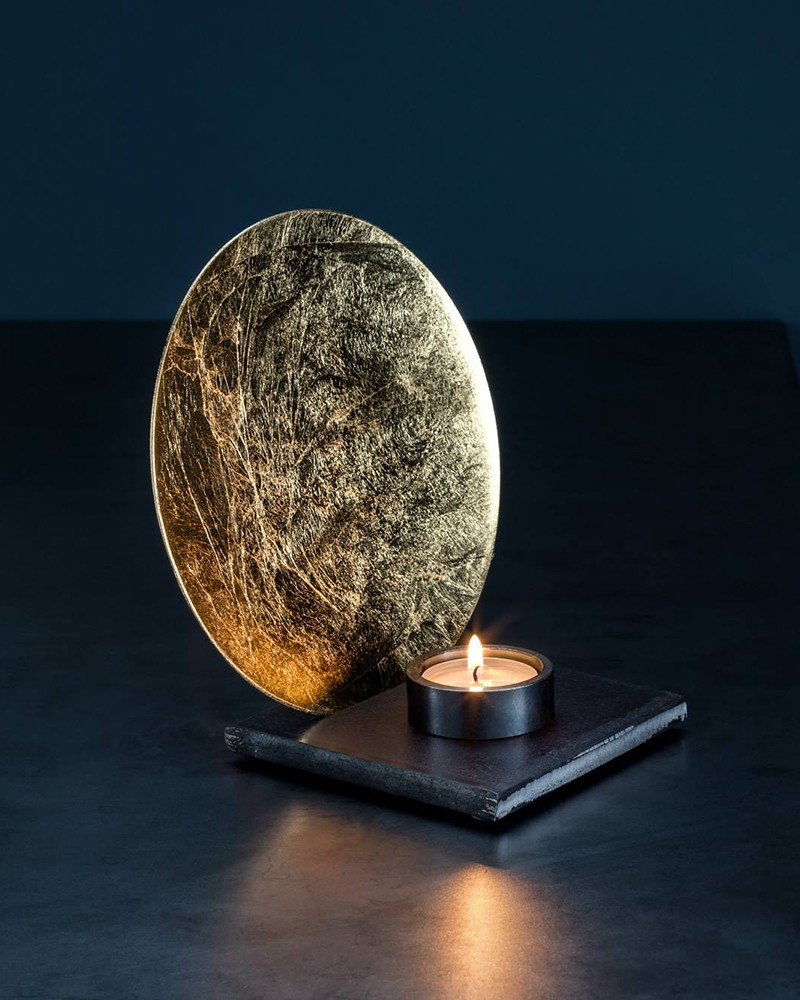  
Catelani & Smith - luci d'oro
Luci d'Oro was developed after reflecting on the color of light: the golden light of the sun and fire; warm light, in which the concept of refraction began to take shape in Enzo Catellani's mind and which he used later in other creations.
This candle holder, from the Lederam collection, which works very well with tea light is perfect for a subdued atmosphere and it is an ideal gift with its gold leaf covered disc that reflects a soft and vibrant light. La Maison Sur La Sorgue uses them in its bathrooms, when the bathtub overflows with fragrant foam... It is also so lovely to have this warm light for breakfasts in the morning when breakfasts are prepared inside. Waxed rough iron base and candle holder ring with magnet (candle cannot slide), aluminium disc with golden leave, tea light. Base 11×11 cm, disc Ø 17 cm and very well packed into a wooden box, together with nice white gloves in order to take it with care. It is very easy to ship and an excellent idea for a present. Please ask us to prepare it with a gift wrap. It will be our pleasure to do it for a nice present.
Data sheet
Type of product

Lighting

Gift Ideas

For curious people

Gift Ideas

For Lovers

Gift Ideas

Mothers Day
No customer reviews for the moment.