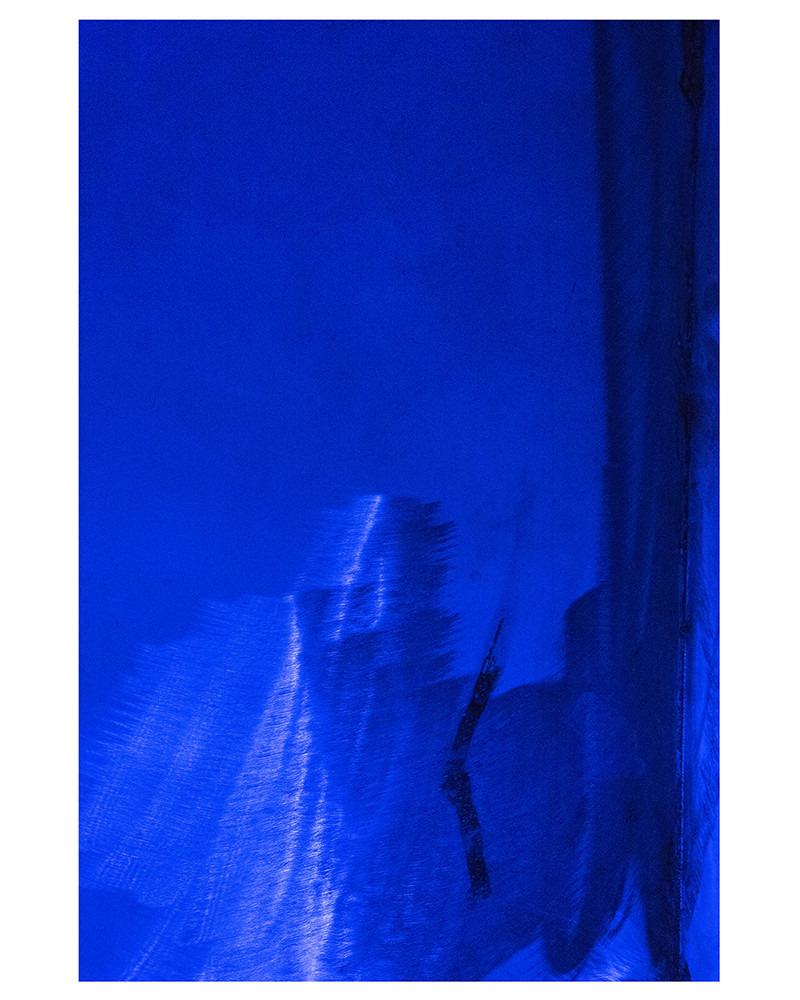  
Bérengère Leydier - blue submarine
Oui j'étais réellement dans un sous-marin! enfin…a tiny one…planté dans le décor de l'Aquarium de Galway. Evidemment le but était de regarder par les hublots afin d'observer la faune aquatique! J'y ai vu tout de suite un autre intérêt: des parois métalliques rivetées sur lesquelles se déployaient des traces de meuleuse,  brossant l'ensemble de manière graphique, le tout baigné d'un bleu intense… malgré des conditions lumineuses difficiles -mais envoutantes- et l'inconfort de la place, sans appui possible, exigüe en hauteur comme en largeur, fréquentée de façon continue par les petits visiteurs et leurs parents courbés en deux comme moi, je décide de m'attarder quand même et ose squatter les lieux pour tenter des prises de vue… une immersion aquatique à pied sec, au rendu hypnotique…



Bérengère Leydier a tiré cette photo pour la galerie Retour De Voyage dans un petit format : 60 cm x 90 cm, sur papier fine art mat. Chaque photographie est numérotée, signée par l'artiste et délivrée avec un certificat d'authenticité.
Photographie 1/7
Oui j'étais réellement dans un sous-marin! enfin…a tiny one…planté dans le décor de l'Aquarium de Galway. Evidemment le but était de regarder par les hublots afin d'observer la faune aquatique! J'y ai vu tout de suite un autre intérêt: des parois métalliques rivetées sur lesquelles se déployaient des traces de meuleuse,  brossant l'ensemble de manière graphique, le tout baigné d'un bleu intense… malgré des conditions lumineuses difficiles -mais envoutantes- et l'inconfort de la place, sans appui possible, exigüe en hauteur comme en largeur, fréquentée de façon continue par les petits visiteurs et leurs parents courbés en deux comme moi, je décide de m'attarder quand même et ose squatter les lieux pour tenter des prises de vue… une immersion aquatique à pied sec, au rendu hypnotique…
Data sheet
Type of product

Art - Photography
No customer reviews for the moment.