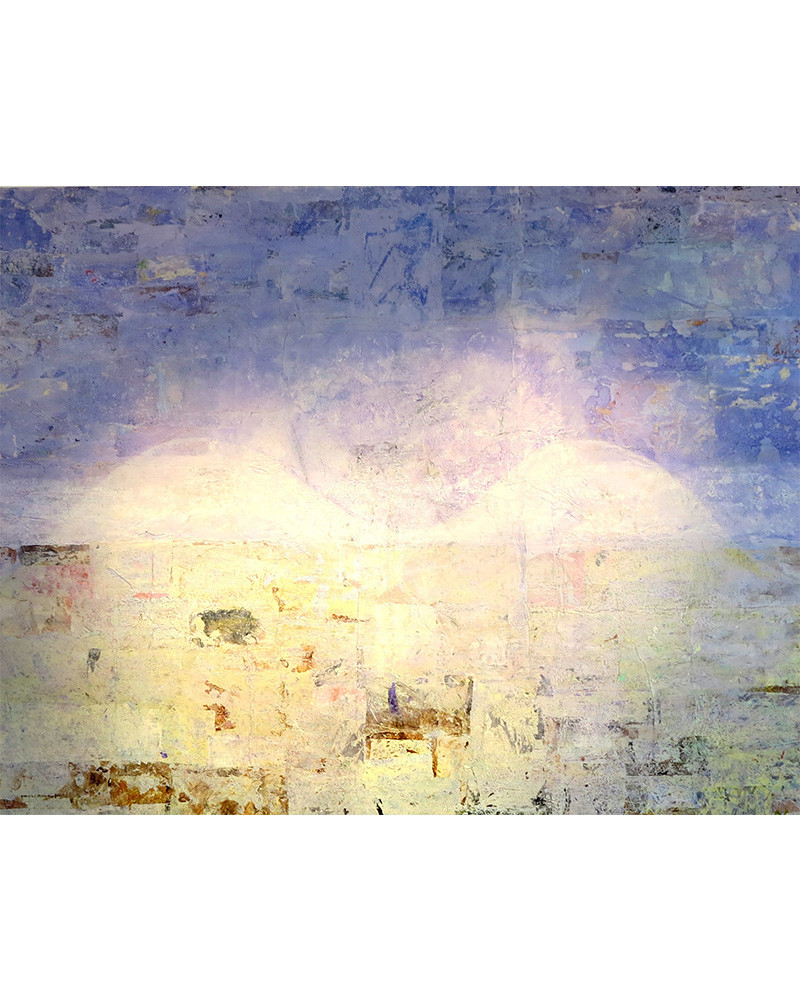  
Anne Vilsboll - Glow
Welcome to the Water Palace
"Glow"
175 x 130 cm
handmade paper vacuum pressed on canvas, pigments and binder
WELCOME TO THE WATER PALACE
ANNE VILSBOELL – PAINTINGS
In 2001 Anne Vilsboell went to India to collaborate with Indian miniature painters. She had written 24 stories revolving around the conceptions water can conjure up. 70 % of the globe and the human body is water.  
All her stories focused on : what would happen if the entire globe was full of water ? Where would we live ? 
Her paintings which will be on view at La Maison sur la Sorgue in September / October 2020 are all linked to water, its power and symbolism : the sea, the waves, the colours of water, the force of water, the danger of water and to the Water Palace and its interiors.
In 2019 Anne settled down on the North Coast of Denmark, very close to the sea. Each morning she walks along the sea and observes the movement of waves, the colours of the ocean. To her, it is a very soothing experience, which inspires her to the following thoughts :
Predefined positions, choreographed patterns, streams, lakes, seas, reflecting and swallowing, turmoil and calm, metaphysics, open senses, inner worlds, varying levels -  life is round, there is hope, expansive, moist landscapes join in with the ocean, resolution , sensuality, receptivity, disappearance into nothingness, the search for the round life, victory over despair, flight and escape scenes -  the mystery, the living space, the invisible are the real domains of art, through art I can regain my freedom, as birds of flight, images of longing, being,  creative, participating in life, vitality, clarity, thought and the power of emotion can blow our physical frames - art is like a human body thrown into water without being able to swim - the body will automatically perform rescue movements - art exists as an instinct which in a spiritual sense do not let man drown. Man's spiritual instinct manifests itself in the arts.
Data sheet
Type of product

Art - Paintings and Drawings

Gift Ideas

Artwork
No customer reviews for the moment.