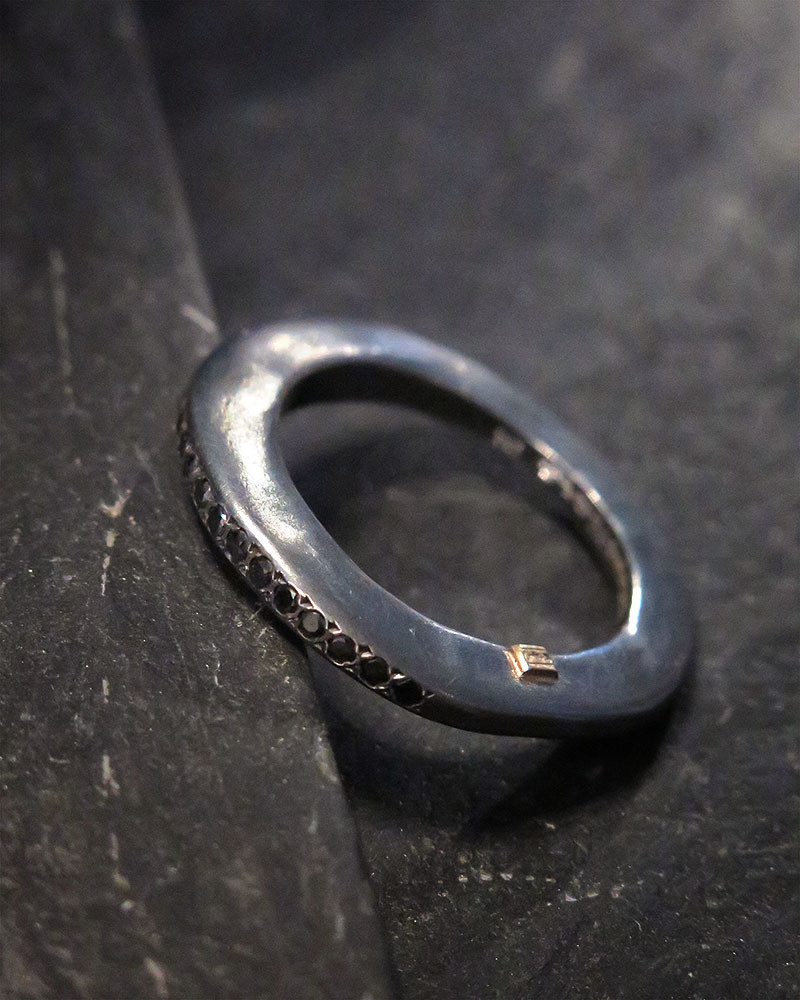  
Rosa Maria - Hammered Rings with black Diamonds
Ring in black oxidized silver set with 13 diamonds, available in size 61, other sizes to order.
In the collection of the rings of Rosa Maria, there are many rings in silver, shiny or mats, polished or blackened, with diamonds or very sober ... 
FREE DELIVERY TO FRANCE
These 3 rings belong to the family of hammered rings, they all are made of sterling silver, polished or oxidized, shiny or mat black, with black diamonds. As it is so difficult to choose one of them, take three at the same time, they will match together...
Retour De Voyage presents the jewels of the designer Rosa Maria. This Lebanese designer is called by her stage name Rosy Abourous and works with her sisters. She creates beautiful jewelery from precious stones and metals in a handcrafted way. The rings are hammered by hand, they have an irregular shape like a small wave. Each one has its originality and is pleasant to wear, and if you combine several at the same time, you can enjoy the originality of each one, while creating for you a unique jewel.
For a fitting around a cup of tea or a glass of rosé, a flute of champagne,
Make an appointment at +33 6 87 32 58 68 or by e.mail lamaisonsurlasorgue@wanadoo.fr
Data sheet
Type of product

Jewellery

Type of product

Jewels - Rings

Gift Ideas

For Lovers

Gift Ideas

Beautiful jewel for him

Gift Ideas

A jewel for her or for him
No customer reviews for the moment.