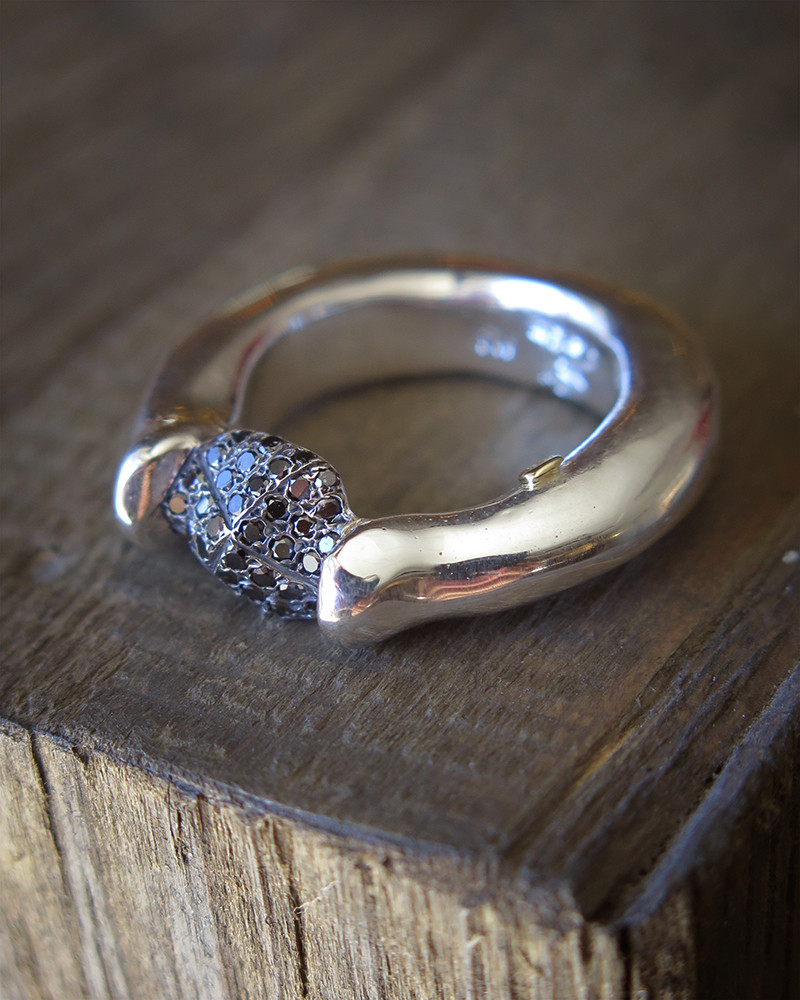  
Rosa Maria - Pilar, black diamonds
 Available upon request, please contact us
Tax included
The Pilar ring, created in Lebanon by Rosa Maria, will interest men and women alike. The square shape is softened by the delicate assembly of diamonds in a heavy metal setting. This world-renowned designer is only sold in exclusive locations, and we are excited for you to discover her here.
Heavy hammered 925 silver rings, paved with black diamonds 
Available Size : 55
If you want another size, call Frédéric : +33 6 87 32 58 68
The little golden dot is the very elegant logo of Rosa Maria, which can be found on almost all her rings.
Under the name of Rosa Maria, a name inherited from her Argentinean mother, Rosy Abourous has been creating and producing for years a line of jewellery that is now worldwide known.
As soon as you see one of her ring, you want to hold it in the palm of your hand, weigh its density, caress with your thumb the softness and irregularity of its surface. You immediately think that this gesture will soon be usual...
Then you pass the ring to your finger... the impression is a little strange as the ring is so different from the ones you usually wear... you turn your hand in all directions, the ring takes the light, the hollows and bumps of the metal illuminate, you might fall in love with the ring ...
Retour De Voyage, art gallery has always been presenting Rosa Maria's rings, and more recently her necklaces and earrings.
Data sheet
Type of product

Jewellery

Type of product

Jewels - Rings

Gift Ideas

For Lovers

Gift Ideas

Magnificent Jewel for Her

Gift Ideas

A rare treat
No customer reviews for the moment.