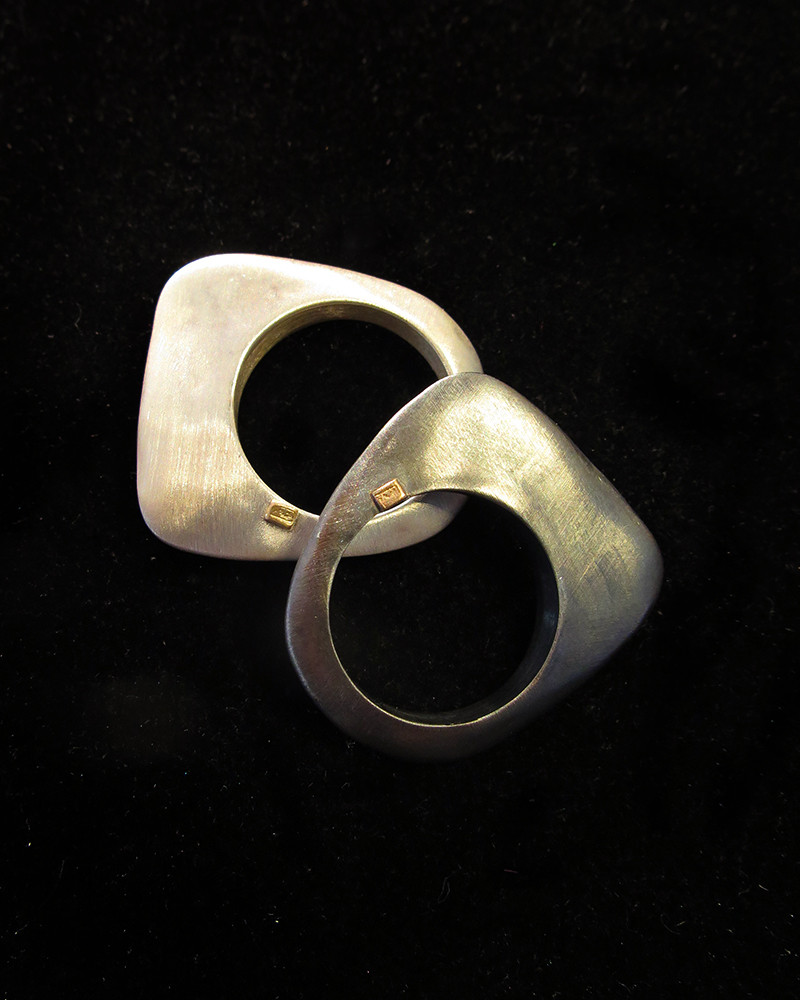  
Rosa Maria - Angela silver ring
Rings so original that everyone will envy you!
Hammered by hand by the designer Rosa Maria, one of these rings is in brushed matte silver, the other is in blackened silver.
Don't forget to specify your size to order, and if you are unsure, call us at +33 6 87 32 58 68
FREE DELIVERY TO FRANCE
Heavy hammered silver rings.
The small golden dot is the very elegant logo brand of Rosa Maria, which is found on all her rings.
When you see these rings, the first thing you want to do is hold them in the palm of your hand, weigh their density, caress with your thumb the softness and irregularity of their surface. We immediately think that this is a gesture that we will often make with this ring, when we are sitting in front of our computer, thinking...
Then we put them on to our finger... first a ring alone, the impression is a bit strange, the ring is so different from the ones we usually wear... we turn the hand in all directions, the ring takes the light, the hollows and bumps of the metal light up, we fall in love with the ring ...
We then try the second ring, the contrast of the colors is amazing, the rings become a jewel "I'd really like to have them"...
If you're still thinking about it tomorrow morning when you wake up, then those rings are for you...
Data sheet
Type of product

Jewellery

Type of product

Jewels - Rings

Gift Ideas

For Lovers

Gift Ideas

Mothers Day

Gift Ideas

Magnificent Jewel for Her
No customer reviews for the moment.