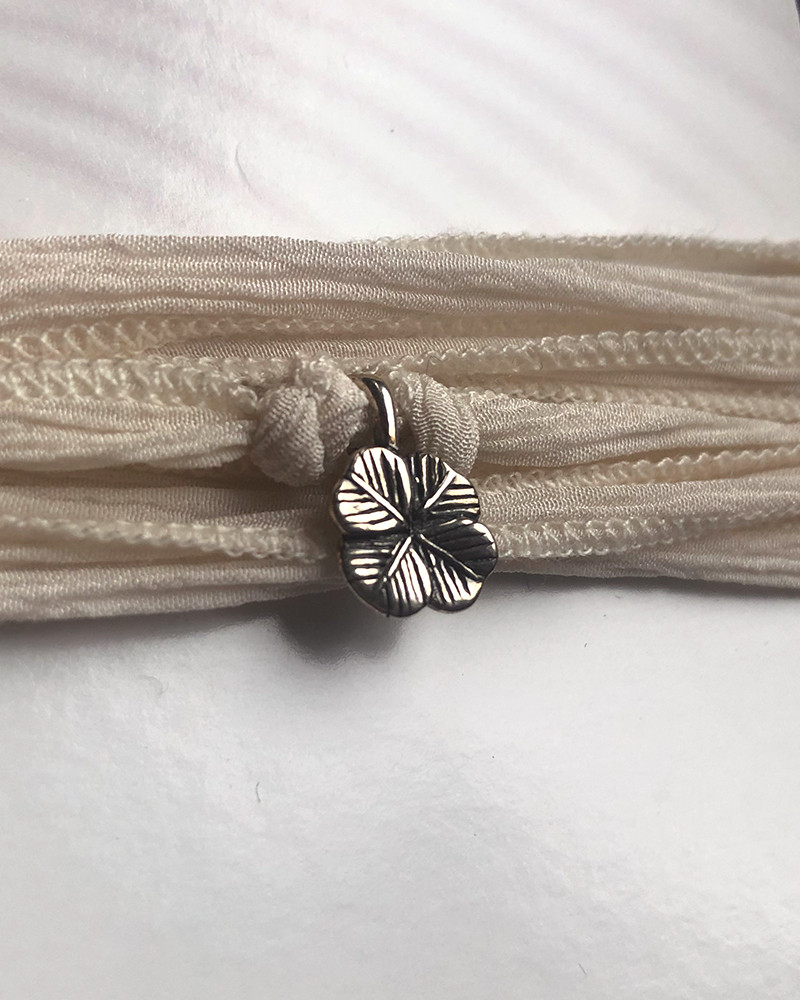  
Catherine Michiels - Leaf Clover Charm
Le leaf clover, best luck charm ever !
Charm available in solid silver, bronze, and on request in white, yellow or pink gold
Original creation by Catherine Michiels, selected by Retour De Voyage
Free delivery to France (upon validation of your address)
It is said that the luck factor of the four-leaf clover came from Eve herself. As Adam and Eve left the Garden of Eden, Eve is said to have picked a single four-leaf clover as a souvenir of paradise, and this religious connection has led them to be considered lucky ever since. The Celts, on the other hand, considered four-leaf clovers to have magical powers of protection, capable of warding off evil and bad luck. It was also believed that wearing a clover allowed the wearer to see fairies. Celtic fairies were dangerous little creatures that could play deadly tricks or steal from children. Wearing a four leaf clover meant that you could take steps to avoid a fairy if you saw one. This finely crafted charm, available in solid silver, bronze, and on request in white, yellow or pink gold, will allow you to benefit from the luck that four-leaf clovers attract. You can also purchase each charm independently. You will receive your jewel on a silk ribbon in one of the colours of the season. If you have a preference for a particular colour of silk ribbon, please specify.
Catherine Michiels does not just design jewellery, as a Reiki Master she breathes a soul into each of her creations and gives substance to an energy. Each piece has a meaning, a connection with those who will receive it. These jewels are surrounded by benevolence and zenitude for a bohemian chic style. 
Data sheet
Type of product

Jewellery

Type of product

Jewels - Charms

Gift Ideas

Porte Bonheur Charm

Gift Ideas

For Lovers

Gift Ideas

Mothers Day

Gift Ideas

A jewel for her or for him
No customer reviews for the moment.