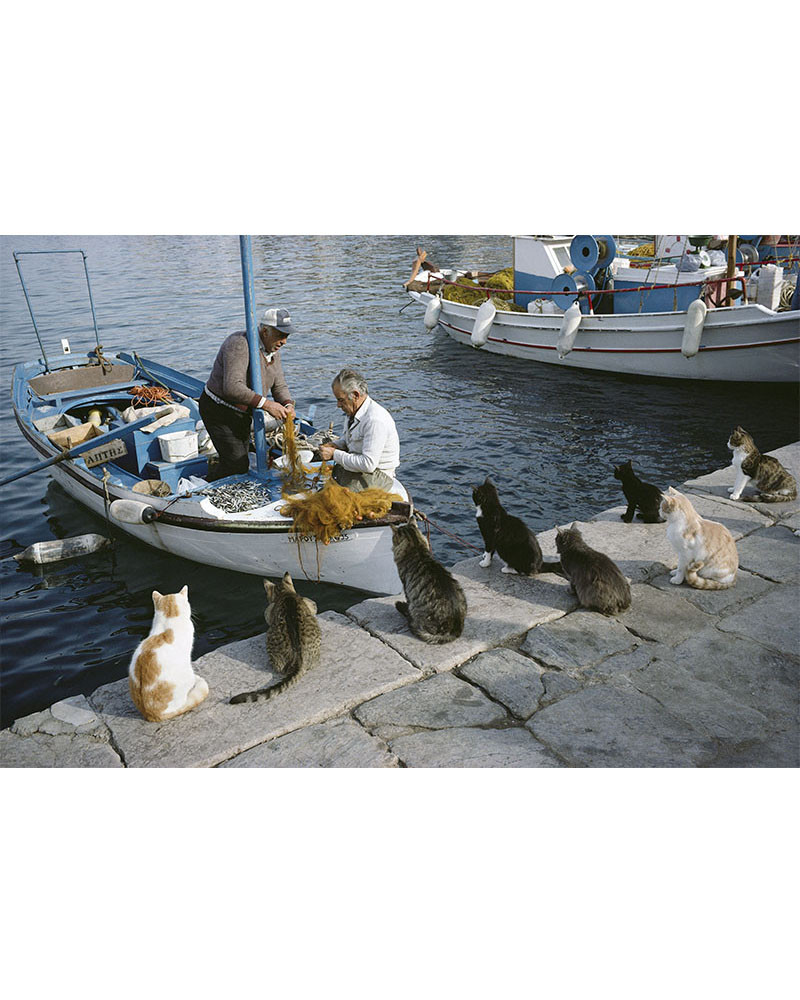  
Hans Silvester - Islands Cats 02
Photograph of Hans Silvester who stayed long periods in the Greek islands to capture the grace of these felines.
Photographs signed and numbered from 1 to 10 by the artist.
3 formats available : 40x60 cm | 60x90 cm | 100x150 cm
For more information, contact Frédéric at +33 6 87 32 58 68
Hans Silvester has captured this unmissable event: the return from fishing. Cats don't like water, but they love fish. And if they don't have a watch, you can be sure that they know exactly when the boats are coming back to port. And for good reason, they wait for the sailors to give them the damaged or unsaleable fish. This appointment is more like a goodwill exchange: the fishermen want to be rid of the mice. It is an unspoken contract between the men and these cats.
Retour de Voyage has selected this photograph from the best-seller book "Cats in the sun" by Hans Silvester.
Fervent defender of ecology, Hans Silvester denounced the wounds of the Earth through his pictures. Blocked by a storm in Mykonos, the photographer found himself on this island for several days where he discovered that cats and humans lived together in harmony. From then on, Hans Silvester decided to photograph these graceful and peaceful felines. It is a work of patience, observation and taming which was tied between the photographer and these cats. To obtain such pictures, Hans Silvester knew how to blend into their environment and gain their trust. After fifteen trips to the Greek islands, Hans Silvester unveils these photos that only he has the secret, and transmits his love for cats. The result are magnificent photographs that highlight the grace and nobility of these free, semi-wild cats. Let yourself be dazzled and touched by these photos that pay tribute to them. 
Data sheet
Type of product

Art - Photography

Gift Ideas

Artwork
No customer reviews for the moment.