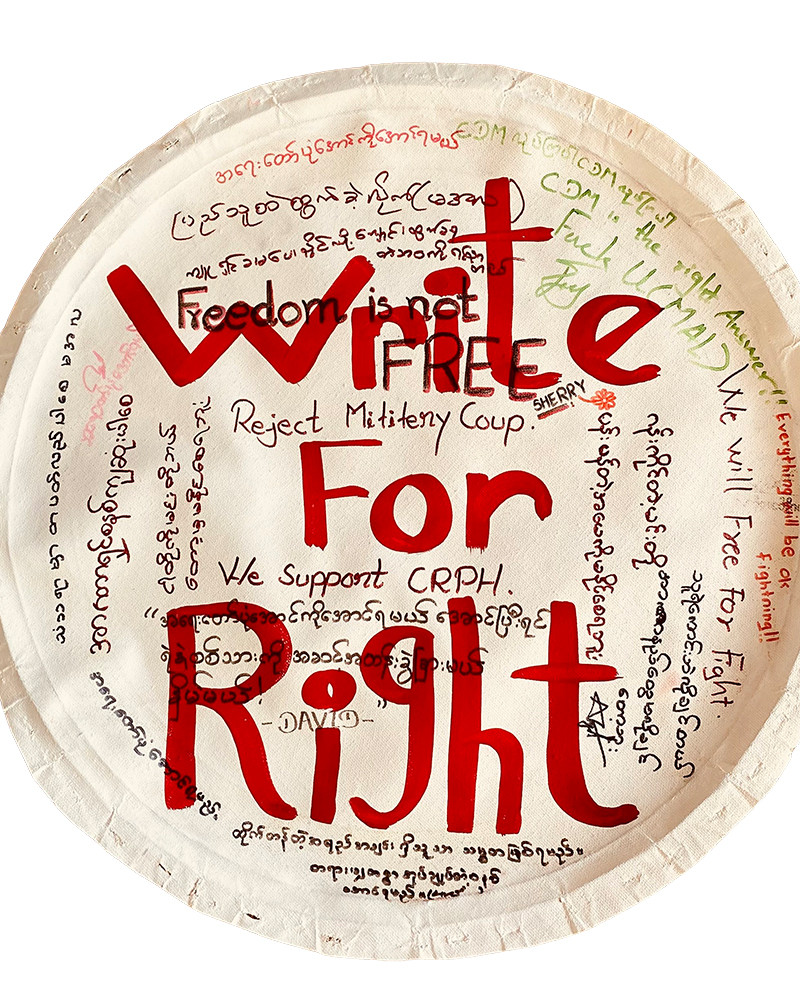  
Chuu Wai Nyein - Write for right
Cardboard poster created on the barricades in protest against the military coup d'état of 1 February 2021
Dia: 48 cm
Following the february 1st military coup in her country, Chuu Wai Nyein involved into a peaceful fight with the creation of the artistic group WRITE FOR RIGHT. Her aim was to actively take part in the demonstrations for democracy in Burma. Since April 2021, she has had to exile into France with the firm intention to keep helping her country through the artistic testimonies that she gathered and now wants to share with us.
On February 1st 2021, the military coup in Burma brings to an end a brief period of democratic governance. Since the takeover, the country has seen massive protests and a general strike calling for a return of democracy and the elected government. As of 1st october, the junta has killed over 1100 peaceful demonstrators, arrested 7 000 to 8 000 and issued arrest warrants against 2 000 democratic opponents currently in hiding.
Only few days after the coup, Chuu Wai Nyein founded the WRITE FOR RIGHT movement. On a truck following the demonstration, the group of young artists created hundreds of posters to voice the anger of the people of Burma against the regime.When not demonstrating, the artists painted pieces of art to fund the civil government in exile. Many were imprisoned. Chased by the junta, Chuu Wai Nyein chose exile. She manages to take with her some of these posters, created by people who took great risks and put themselves in danger. The posters are undoubtedly part of the revolution and the history of Myanmar.
Data sheet
Type of product

Art - Paintings and Drawings

Gift Ideas

Artwork
No customer reviews for the moment.