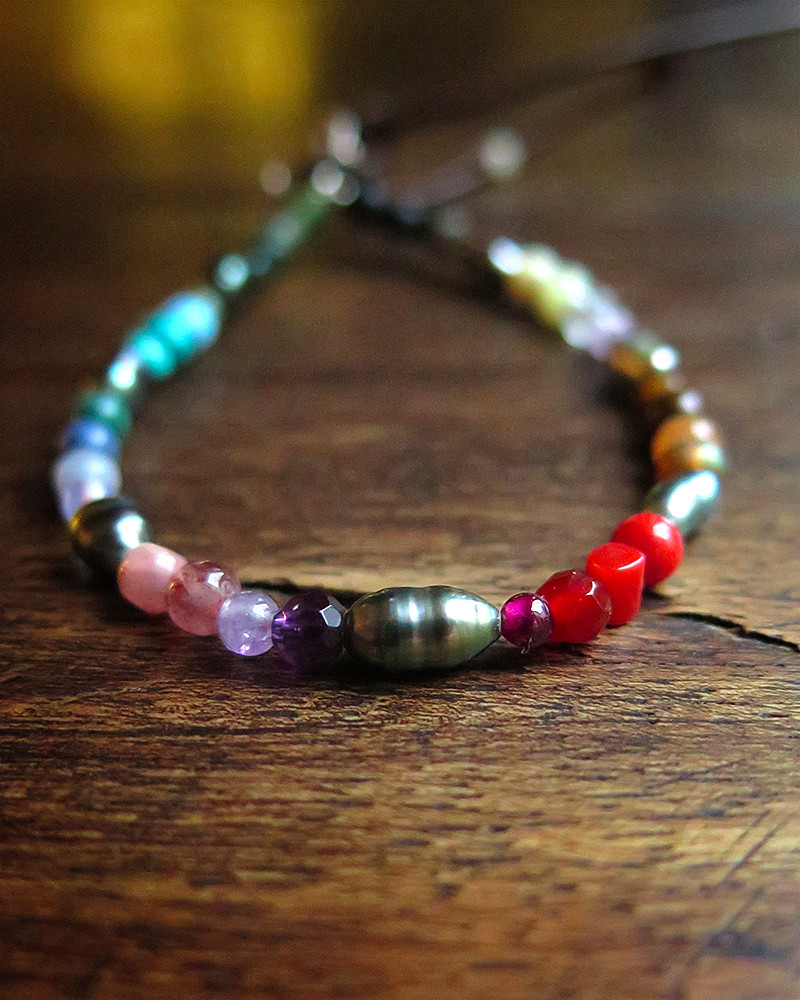  
Catherine Michiels - New Rainbow Bracelet
Hawaiian Magic Rainbow Bracelet, with pearl
Elegant composition by Catherine Michiels.
FREE DELIVERY TO FRANCE
A very cheerful bracelet for the summer, the iconic stardust bracelet from the bracelets created by Catherine Michiels. 
Various size and stones with Tahitian Keishi pearls. 
This bracelet is available in women and men's size, it adapts to the size of your wrist thanks to its leather link that allows it to adjust. It is part of the stardust collection, created by Catherine Michiels.
Stardust bracelets are meant be be worn individually or in combination: it is then a matter of carefully choosing the ones that most resemble you and creating a beautiful and unique composition.
Their name "stardust" comes from the first bracelets that were made from beautiful cut silver and gold that twinkle like a star. The new bracelets are made with love from very special precious gems, stones or ebony.
They are mounted on steel cables, in Los Angeles, and more recently in Hawaii, on the sandstone of Catherine's travels.
Data sheet
Type of product

Jewellery

Type of product

Jewels - Bracelets

Gift Ideas

For Lovers

Gift Ideas

Mothers Day

Gift Ideas

A jewel for her or for him
No customer reviews for the moment.